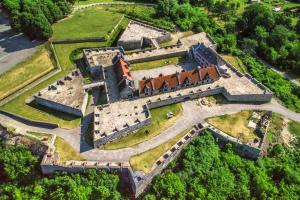 The Project Will Highlight Regional Historic Sites to Expand Awareness and Tourism during the 250th Commemorative Years, 2024-2027
Ticonderoga, N.Y. - Fort Ticonderoga has announced the creation of the 250th Northern Department, as part of its plans for the national 250th commemoration of the American War for Independence. This initiative will promote and market regional historic sites during the commemorative period from 2024-2027 and beyond through print and digital content and social media platforms.
The announcement came at a recent regional 250th commemoration meeting, held in Fort Ticonderoga's Mars Education Center. Representatives from over 50 partnering organizations, museums and historic sites from across New York, Vermont, Rhode Island, Massachusetts, Connecticut, and Canada were in attendance to discuss 250th commemorative plans.
"The Northern Department shouldered the assault of British forces from the Canada in 1776 and 1777, culminating in the surrender of John Burgoyne's army in October of 1777, forever altering the course of American history," said Devin R. Lander, New York State Historian. "Today, as we build plans to commemorate the 250th anniversary of the War for the American Independence, we are thrilled to see Fort Ticonderoga initiate the recreation of the Northern Department. This project, connecting key partners in New York, Vermont and Canada, will promote Northern Department historic sites and draw hundreds of thousands of visitors to the region during the commemorative period."
"It might be said that Washington's tour of the forts and battlefields of the Northern Department in 1783 made this region collectively the site of the first Revolutionary War tourism," said Beth L. Hill, Fort Ticonderoga President and CEO. "The Northern Department was critical to American victory in the Revolution and was recognized early on as the site of remarkable human achievements combined with some of America's most dramatic scenery. Today we are energized to build off this legacy, encourage travel and catapult our region into the forefront of 250th commemoration in New York, the United States, North America, and beyond!"
Fort Ticonderoga will commemorate the 250th anniversary of the American Revolution as the conflict that shaped our nation. To serve our mission of preservation and education, Fort Ticonderoga will explore the individuals, alliances, triumphs, and challenges of the long war to achieve American independence and their lasting impact on the United States and the world.  To learn more about 250th programs, events and other commemorative plans, visit https://www.fortticonderoga.org/learn-and-explore/ticonderoga-250th-real-time-revolution/.
About Fort Ticonderoga
Welcoming visitors since 1909, Fort Ticonderoga is a historic site, museum, center of learning and major cultural destination. Fort Ticonderoga engages more than 70,000 visitors each year on site with an economic impact of more than $12 million annually and offers programs, historic interpretation, boat cruises, tours, demonstrations, and exhibits throughout the year, and is open for daily visitation May through October. Fort Ticonderoga is owned and operated by The Fort Ticonderoga Association, a non-profit educational organization which serves its mission to preserve, educate and provoke an active discussion about the past and its importance to present and future generations. Fort Ticonderoga reaches more than 30 million people through its digital outreach each year through its Center for Digital History and is supported in part through generous donations and with some general operating support made possible by the New York State Council on the Arts. To view Fort Ticonderoga's electronic press kit, click here. © The Fort Ticonderoga Association. 2023 All Rights Reserved.
Photo:  Carl Heilman II, copyright Fort Ticonderoga.
For Further Information Contact:
Beth Hill - 518-585- 2821