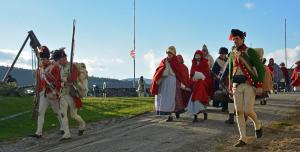 Ticonderoga, N.Y. -- Join Fort Ticonderoga for an exciting one-day living history event Saturday, November 6, 2021 that explores British and American loyalist soldiers launching one last campaign to Ticonderoga in the fall of 1781.
Highlighted programming throughout the day features the encampment of soldiers, sailors, and their eventual departure back north. Discover the network of scouts and spies through which the British government, the independent state of Vermont, and the Continental Congress, negotiated their borders.
Participate in a series of guided tours, weapons demonstrations, and historic trade programs that bring to life this unique chapter in Ticonderoga's history. Explore the trades and tools employed by soldiers and sailors to make and mend anything from sails to entire barracks. Watch as cattle work drawing heavy provisions and guns. Meet with loyalist refugees from the states seeking security within British territory. From taking down tents to loading equipment and supplies onto carts, experience the feat of logistics to decamp an army.
"The story of the final campaign at Ticonderoga in 1781 is a fascinating window into the situation for many peoples along the northern border of the United States in the last years of the Revolutionary War and even after," said Stuart Lilie, Fort Ticonderoga Vice President of Public History. "We are excited to bring this chapter in our story to life through engaging tours, demonstrations, and living history programming."
This event is free for all active and retired military personnel. For the full visitor schedule and other details, visit www.fortticonderoga.org.
About Fort Ticonderoga:
Welcoming visitors since 1909, Fort Ticonderoga preserves North America's largest 18th-century artillery collection, 2,000 acres of historic landscape on Lake Champlain, and Carillon Battlefield, and the largest series of untouched Revolutionary War era earthworks surviving in America. As a multi-day destination and the premier place to learn more about our nation's earliest years and America's military heritage, Fort Ticonderoga engages more than 75,000 visitors each year with an economic impact of more than $12 million annually and offers programs, historic interpretation, boat cruises, tours, demonstrations, and exhibits throughout the year, and is open for daily visitation May through October. Fort Ticonderoga is supported in part through generous donations and with some general operating support made possible by the New York State Council on the Arts.
For Further Information Contact
Beth Hill - 518-585-2821