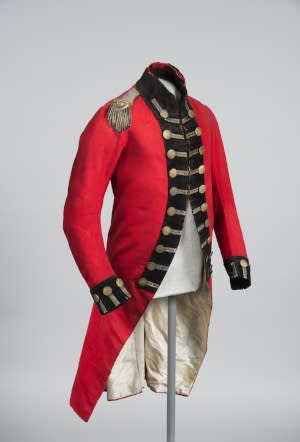 Display of rare Revolutionary war objects, history-themed boat tours, and ceremony honoring America's soldiers
Ticonderoga, NY – Fort Ticonderoga today announced a special museum exhibit and programming for Memorial Day Weekend that honors the service of the Armed Forces of the United States on the very ground where many American soldiers made the ultimate sacrifice for the cause of freedom.
The "Achieving Independence: Ticonderoga and Philadelphia" pop-up exhibit explores the relationship between the two iconic locations during the country's founding.
Objects on display include a rare surviving uniform worn by a German-American Loyalist Officer that served with the British during the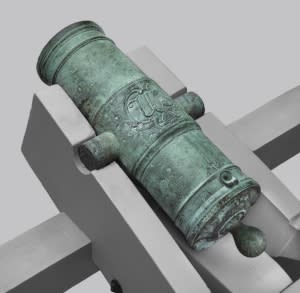 Revolution; an original copy of Baron von Steuben's drill manual – the first drill manual for the army of the United States, and a Philadelphia made howitzer that is one of the earliest known examples of "US" being used on American-made artillery. Weapons, maps, portraits, and journals will also be part of the pop-up exhibit.
"The hallowed grounds of Fort Ticonderoga provide the ideal backdrop for one of the country's most poignant Memorial Day experiences," said Beth Hill, Fort Ticonderoga President and CEO. "From witnessing the Continental Army prepare to defend Fort Ticonderoga to solemn remembrances and rare and interesting objects from the country's founding – we will be providing unforgettable experiences at a place where many American soldiers fought and died for their country."
The story of the American Army in 1777, rebuilding itself and digging in at Ticonderoga to defend liberty will be highlighted throughout the weekend.
On Saturday and Sunday narrated boat tours aboard the Carillon retrace the movements of American Sailors on Lake Champlain in 1777. Join Fort Ticonderoga on Monday to remember the sacrifices of American Soldiers during a solemn ceremony at 11:00 AM. For the full schedule, visit http://www.fortticonderoga.org/events/fort-events/memorial-day-weekend/detail.
Additional Memorial Day weekend activities and programs include daily tours in the fort, King's Garden, and museum exhibition spaces; historic trades programs; ongoing soldiers' life programs; weapons demonstrations; the Mount Defiance experience; and the Battlefield hiking trail.
A 10 percent general admissions discount will be given to active duty military members with proof of service for this special weekend event. For more information, visit our calendar at www.fortticonderoga.org or call 518-585-2821.
Fort Ticonderoga: America's Fort™ 
Welcoming visitors since 1909, Fort Ticonderoga preserves North America's largest 18th-century artillery collection, 2,000 acres of historic landscape on Lake Champlain, and Carillon Battlefield, and the largest series of untouched Revolutionary War era earthworks surviving in America. As the premier place to learn more about our nation's earliest years and America's military heritage, Fort Ticonderoga engages more than 75,000 visitors each year with an economic impact of more than $12 million annually and offers programs, historic interpretation, boat cruises, tours, demonstrations, and exhibits throughout the year, and is open for daily visitation May through October.  
America's Fort is a registered trademark of the Fort Ticonderoga Association.
Photo Credits:
Six-inch Howitzer
Fort Ticonderoga/ photographer Gavin Ashworth, 2017
Lieutenant Jacob Schieffelin's Uniform Coat
Fort Ticonderoga/ photographer Gavin Ashworth, 2017
For Further Information Contact:
May 23, 2018                                                 
David Doyle – 518-326-6400