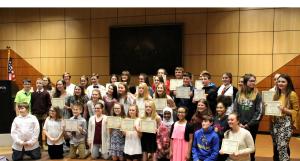 National History Day Workshops are in partnership with Warren County Historical Society & Clinton County Historical Association
Ticonderoga, N.Y. -- Fort Ticonderoga will partner with the Warren County Historical Society to host a free workshop for middle and high school teachers on Thursday, November 10, 2022, from 4-5pm and the Clinton County Historical Association on Thursday, November 17, 2022, from 4:00-5:00pm. The workshop will introduce teachers to the National History Day program and the process for preparing students to participate. These workshops are open to all educators, whether or not they have prior experience with National History Day.
The National History Day program encourages students in grades 6-12 to explore local, state, national, and world history. After selecting a historical topic that relates to an annual theme, students conduct extensive research by using libraries, archives, museums, and oral history interviews. Students analyze and interpret their findings, draw conclusions about their topics' significance in history, and create projects that present their work. These projects can be entered into a series of competitions, from the local to the national level, where they are evaluated by professional historians and educators.
Fort Ticonderoga hosts North Country History Day on March 4, 2023, for students in Clinton, Essex, Franklin, Hamilton, St. Lawrence, and Warren counties. Students in Saratoga and Washington counties can participate in Capital District History Day hosted at the New York State Museum in Albany March 18, 2023. Top finishers at the regional level advance to compete at New York State History Day on April 24, 2023, at SUNY Oneonta.
In addition, North Country Region students in grades 9-11 who register to participate in North Country History Day on March 4th are eligible to apply for the Beaty Family Scholarship. This scholarship enables one North Country student to participate in the National History Academy, a five-week summer program based in northern Virginia that explores themes in colonization, the American Revolution, the founding of the United States, the American Civil War, and the Civil Rights movement. Participants meet with history experts and participate in numerous field trips from Jamestown and Colonial Williamsburg to Gettysburg, as well as making frequent trips into Washington, D.C.
Upcoming Workshop Locations:
The November 10th workshop takes place at the Human Services Building on the Warren County Municipal Center Campus.
The November 17th workshop takes place at the Clinton County Historical Association at 98 Ohio Avenue, Plattsburgh.
Teachers can register in advance by emailing Rich Strum, Fort Ticonderoga Director of Academic Programs at rstrum@fort-ticonderoga.org. These workshops are funded by an agreement P21AC11821-00 awarded by the United States National Park Service (NPS) to NEIWPCC in partnership with the Champlain Valley National Heritage Partnership. 
About Fort Ticonderoga
Welcoming visitors since 1909, Fort Ticonderoga is a major cultural destination, museum, historic site and center for learning, reaching a global audience through the Center for Digital History. As a multi-day destination and the premier place to learn more about America's military heritage, Fort Ticonderoga engages more than 75,000 visitors each year with an economic impact of more than $12 million annually. Presenting vibrant programs, historic interpretation, boat cruises, tours, demonstrations, and exhibits, Fort Ticonderoga and is open for daily visitation May through October and special programs during Winter Quarters, November through April. Fort Ticonderoga is supported in part through generous donations and with some general operating support made possible by the New York State Council on the Arts. © The Fort Ticonderoga Association. 2022 All Rights Reserved.
Photo: Gouverneur Middle School participants
For Further Information Contact:
Beth Hill - 518-585-2821