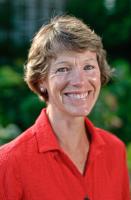 Ticonderoga, N.Y.
- The King's Garden at Fort Ticonderoga presents the Third Annual Garden & Landscape Symposium "New Garden Visions" on Saturday, April 12. This day-long symposium, geared for both beginning and experienced gardeners, provides helpful insights from garden experts who live and garden in upstate New York and northern New England. This springtime event takes place in the Deborah Clarke Mars Education Center and is open by pre-registration only. "Inspired by Fort Ticonderoga's rich horticulture history, this one-day program focuses on practical, easy-to-implement strategies for expanding and improving your garden or landscape," said Heidi teRiele Karkoski, Fort Ticonderoga Director of Horticulture. "The programs are offered in an informal setting that encourages interaction between presenters and attendees."  Speakers include:
Kerry Mendez, "Seasonal Garden Care for Gorgeous, 'Well behaved' Gardens."
Dr. Leonard Perry, "Spring Flowering Bulbs."
Dave Rutkowski, "Chemical-Free Gardening: A Success Story."
Jane Sorensen, "Landscape Design for Pollinators."
Registration for the Garden & Landscape Symposium is now open. The cost for the day-long symposium, which includes a lunch prepared by Libby's Bakery Café, is $75 ($65 for members of the Friends of Fort Ticonderoga). A brochure with the complete schedule and registration form is available on Fort Ticonderoga's website at
http://www.fortticonderoga.org/
by selecting "Explore and Learn" and choosing "Life Long Learning" on the drop-down menu. A printed copy is also available upon request by calling 518-585-2821. The Garden & Landscape Symposium is one of numerous opportunities for life-long learning at Fort Ticonderoga in 2014. You can learn more about these programs, including the Lake Series: Lake George and Lake Champlain, by visiting the Fort's website at
http://www.fortticonderoga.org/
and selecting "Explore and Learn."
About Fort Ticonderoga's King's Garden
The walled King's Garden was originally designed in 1921 by leading landscape architect Marian Coffin.  The formal elements - a reflecting pool, manicured lawn and hedges, and brick walls and walkways - are softened by a profusion of annuals and perennials, carefully arranged by color and form.  Heirloom flowers and modern cultivars are used to recreate the historic planting scheme. Visitor favorites include the lavender border, towering hollyhocks, bearded irises, dinner plate dahlias and many types of phlox. Outside of the nine-foot brick walls of the colonial revival King's Garden, the Discovery Gardens include a children's garden, military vegetable garden, and Three Sisters Garden. The restored Lord and Burnham greenhouse, charming gazebo, sweeping lawns and shady picnic spots invite visitors to explore the landscape at one of America's oldest gardens dating to the French occupation of the Fort in the mid-18
th
century.
About Fort Ticonderoga: America's FortTM
The Fort Ticonderoga Association is an independent not-for-profit educational organization which serves its mission to ensure that present and future generations learn from the struggles, sacrifices, and victories that shaped the nations of North America and changed world history. It serves this mission by preserving and enhancing its historic structures, collections, gardens and landscapes; and educating the public as it learns about the history of Fort Ticonderoga. Welcoming visitors since 1909, it preserves North America's largest 18
th
-century artillery collection, 2000 acres of historic landscape on Lake Champlain, and Carillon Battlefield, and the largest series of untouched 18th-century earthworks surviving in America.  Fort Ticonderoga engages more than 70,000 visitors each year, and annually reaches more than 5,000 people in outreach programs.  Fort Ticonderoga offers programs, historic interpretation, tours, demonstrations, and exhibits throughout the year and is open for daily visitation May through October. Fort Ticonderoga is accredited by the American Association of Museums and pursues its vision to be the premier cultural destination in North America. Visit
http://www.fortticonderoga.org/
 for a full list of ongoing programs or call 518-585-2821. Fort Ticonderoga is located at 100 Fort Ti Road, Ticonderoga, New York.
America's Fort is a registered trademark of the Fort Ticonderoga Association.
Photo:
 Garden consultant Kerry Mendez discusses seasonal garden care as part of Fort Ticonderoga's Third Annual Garden & Landscape Symposium on Saturday, April 12th. Registration for this day-long symposium is now open.
Contact:
Beth Hill 518-585- 2821
bhill@fort-ticonderoga.org