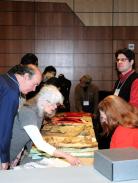 Ticonderoga, N.Y.
- Fort Ticonderoga will host its Third Annual "Material Matters: It's in the Details" the weekend of January 26 & 27, 2013. This weekend event focuses on the material culture of the 18
th
century and is intended for collectors, re-enactors, and people with a general interest in learning more about objects of the 18
th
century and what they can tell us about history. "Material Matters" takes place in the Deborah Clarke Mars Education Center at Fort Ticonderoga and is open by pre-registration only. A panel of material culture experts comes to Fort Ticonderoga for the weekend to share their knowledge of 18
th
-century material culture in a series of presentations. Designed for those who want a deeper understanding of the everyday objects that help tell the story of life and the contests for control of North America during the 18
th
century, the weekend's informal approach enables attendees to interact with presenters and provides an opportunity to examine 18
th
-century objects up close. Seminar presentations include "18
th
-Century Gunshot Wounds and Their Treatments" by Chris Fox; "'A good saddle well-fixed': The saddlery of American Light Dragoons in the Revolution" by Stuart Lilie; "Flame Stitch, Irish Stitch, and Bargello: Decorative Embroidery in 18
th
-Century America" by Shaun Pekar; "'Concerning the Distribution of Supplies': The Southern Army Uniform from 1780-81" by Joel Anderson; and "'the Men's Hatts to be cut into caps after a pattern which will be given': British Army Head Coverings, Province of Quebec, 1777" by Eric Schnitzer. The final presentation of the seminar will be "Caring for Your Antiques and Heirlooms" by Rick Kerschner, Director of Preservation and Conservation at Shelburne Museum. Kerschner will identify major threats to antiques and heirlooms and simple methods for preventing damage to them. Registration for "Material Matters" is now open. A brochure with the complete schedule and a registration form is available on Fort Ticonderoga's website at
http://www.fort-ticonderoga.org/
by selecting "Explore and Learn" and choosing "Life Long Learning" on the drop-down menu. A printed copy is also available upon request by contacting Rich Strum, Director of Education, at 518-585-6370. Register before December 14
th
to receive the Early Bird rate of $120 ($100 for members of the Friends of Fort Ticonderoga).
FORT TICONDEROGA
America's Fort
Located on Lake Champlain in the beautiful 6 million acre Adirondack Park, Fort Ticonderoga is a not-for-profit historic site and museum that ensures that present and future generations learn from the struggles, sacrifices, and victories that shaped the nations of North America and changed world history. Serving the public since 1909, Fort Ticonderoga engages more than 70,000 visitors annually and is dedicated to the preservation and interpretation of Fort Ticonderoga's history.  Accredited by the American Association of Museums, Fort Ticonderoga offers programs, historic interpretation, tours, demonstrations, and exhibits throughout the year and is open for daily visitation May through October. Fort Ticonderoga's newest exhibit
Bullets & Blades: The Weapons of America's Colonial Wars and Revolution
highlights over 150 of the museum's most important weapons and is a comprehensive and expanded reinterpretation of its world renowned historic arms collection!  Visit
http://www.fortticonderoga.org/
for a full list of ongoing programs and events or call 518-585-2821.
#   #   #
Photo:
Participants during a previous "Material Matters" program examine original examples of 18th-century clothing. Fort Ticonderoga hosts the Third Annual "Material Matters: It's in the Details" Seminar on January 26 & 27, 2013. Registration is now open for this weekend seminar.
Contact
: Beth Hill 518-585- 2821
bhill@fortticonderoga.org