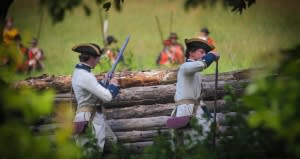 Ticonderoga, N.Y. – Join Fort Ticonderoga July 22-23, 2017 for an exciting battle re-enactment highlighting the epic 1758 Battle of Carillon! Witness how the British amassed the largest army in North American history to date, yet was stunningly defeated by a French army a quarter of its size. Highlighted programming featured throughout the weekend brings to life the story of the courageous French soldiers that protected their lines of defense against all odds. Visitors will meet the British and Provincial soldiers who gave their utmost to drive the French from the rocky peninsula and fortress of Carillon, later named Ticonderoga. Experience the fog of war and smoky haze of battle as the French and British armies maneuver across Fort Ticonderoga's historic landscape in battle re-enactments each day.
Throughout this two-day battle re-enactment, tour Carillon Battlefield and discover how this battlefield preserves both the memory and remains of the battle. Step aboard the 1920s replica tour boat, Carillon, to explore the naval side of the battle. Follow the amassed military musicians of the French Army as they provide musical escorts. Join Fort Ticonderoga's expert staff for detailed presentations in the Mars Education Center. Watch the assault at the recreated French Lines as waves of British and American soldiers rushed through French bullets in an attempt to dislodge this tenuously fortified position during the epic battle re-enactment.
 "During this dramatic event, visitors will discover how the Battle of Carillon sealed the reputation of Ticonderoga for generations to come," said Beth Hill, Fort Ticonderoga's President and CEO. "The battle resulted in the greatest number of casualties in one day until the American Civil War and as a result, Ticonderoga became a legend in its own time."
Fort Ticonderoga: America's Fort™
The Fort Ticonderoga Association is an independent nonprofit educational organization and museum, which serves its mission to ensure that present and future generations learn from the struggles, sacrifices, and victories that shaped the nations of North America and changed world history. It serves this mission by preserving and enhancing its historic structures, collections, gardens and landscapes; and educating the public as it learns about the history of Fort Ticonderoga. Welcoming visitors since 1909, it preserves North America's largest 18th-century artillery collection, 2000 acres of historic landscape on Lake Champlain, and Carillon Battlefield, and the largest series of untouched 18th-century earthworks surviving in America.  Fort Ticonderoga engages more than 75,000 visitors each year and offers programs, historic interpretation, boat cruises, tours, demonstrations, and exhibits throughout the year and is open for daily visitation May through October. Fort Ticonderoga is accredited by the American Association of Museums and pursues its vision to be the premier cultural destination in North America. Visit www.FortTiconderoga.org for a full list of ongoing programs or call 518-585-2821. Fort Ticonderoga is located at 102 Fort Ti Road, Ticonderoga, New York.
America's Fort is a registered trademark of the Fort Ticonderoga Association.
Photo: Fort Ticonderoga Recreates the Epic 1758 Battle of Carillon: Montcalm's Cross on July 22-23, 2017. The price for this event is included in a general admission ticket. To learn more about the event, visit www.fortticonderoga.org.
Contact:          Beth Hill - 518-585- 2821, bhill@fort-ticonderoga.org