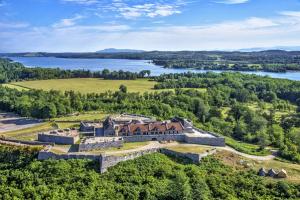 Ticonderoga, N.Y. – Fort Ticonderoga recently unveiled a new responsive and multi-lingual website, featuring stunning visuals that capture Fort Ticonderoga's scenic beauty and many programs extending across the historic site's 2,000-acre landscape and onto the waters of Lake Champlain. The website project was supported, in part, by a grant from New York State's Division of Tourism/I LOVE NY through the Market New York program as part of the Regional Economic Development Council awards.
"Fort Ticonderoga is a world-class destination and educational resource," said Beth L. Hill, President and CEO, Fort Ticonderoga. "We are committed to increasing our access and awareness around the globe thus greatly expanding our economic impact and educational reach. We are very grateful to New York State for this Market New York grant which will further support our commitment to position Fort Ticonderoga as a leading cultural destination in North America."
The new website offers translations in more than 20 languages including French, German, Chinese, and Spanish and provides ease of ticket purchasing for daily tickets, premium tours, seminars and special events. Visitors can discover information about scenic boat tours, historic trades, special events, gardens and much more including information about visiting the Adirondack/Lake George Region. A robust on-line store offers shoppers the opportunity to purchase unique Fort Ticonderoga merchandise including museum publications, apparel, and other museum quality retail products.
"We are especially pleased that the new website features hundreds of our rare museum objects for researchers, teachers, historians, students and hobbyists to explore," said Hill. "The collections coupled with our rich educational resources greatly expands our institution's capacity to educate and provoke an active discussion about the past and its importance to present and future generations."
"Through the Market New York program, we're supporting efforts to promote New York State's unparalleled tourism destinations," said Ross D. Levi, Executive Director, New York State Division of Tourism/Empire State Development. "Fort Ticonderoga is a must-see for visitors to the Adirondacks, and we are pleased that the new vacation planning tool will make experiencing this one-of-a-kind attraction easier than ever for guests from around the world."
Fort Ticonderoga saw a 41% increase in web traffic in June, the first month the new website launched.  Increased on-line ticket sales in 2019 is up due, in part, to the new site by 249%.  In 2018, the Fort Ticonderoga website had nearly 300,000 visitors with significantly more expected in 2019 due to the new website and its features.
To learn more and experience the website for yourself, visit www.fortticonderoga.org.
About Fort Ticonderoga:
Welcoming visitors since 1909, Fort Ticonderoga preserves North America's largest 18th-century artillery collection, 2,000-acres of historic landscape on Lake Champlain, and Carillon Battlefield, and the largest series of untouched Revolutionary War era earthworks surviving in America. As a multi-day destination and the premier place to learn more about our nation's earliest years and America's military heritage, Fort Ticonderoga engages more than 75,000 visitors each year with an economic impact of more than $12 million annually and offers programs, historic interpretation, boat cruises, tours, demonstrations, and exhibits throughout the year, and is open for daily visitation May through October. Fort Ticonderoga is supported in part through generous donations and with some general operating support made possible by the New York State Council on the Arts with the support of Governor Andrew Cuomo and the New York State Legislature.
Photo: Copyright Fort Ticonderoga, Photo Credit Carl Heilman II
For Further Information Contact:
Beth Hill - 518-585- 2821