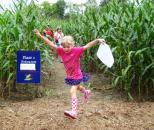 From Farm Field to Land Art
Ticonderoga, N.Y.
- What activity combines solving puzzles and testing your knowledge of history with fresh air, sunshine and over two miles of winding trails?  Fort Ticonderoga's Heroic Maze:  A Corn Maze Adventure!  Beginning August 15, test your navigational skills among towering stalks of corn in Fort Ticonderoga's new six-acre corn maze located near the King's Garden. The Heroic Maze is included in Fort Ticonderoga's general admission price and will be open August 15 through October 20.  Visit
http://www.fortticonderoga.org/visit/heroic-maze
for corn maze details or call 518-585-2821. The maze is divided into phases allowing two levels of difficulty and the chance to gain confidence in the smaller maze before tackling the main maze.  The average journey will take from 20 minutes for the first phase up to an hour for the second phase. Back by popular demand in 2013 - Archeology Quest in the Corn - Scavenger Hunt!  Hidden in the maze are 8 stations each representing an artifact.  Players are given a Quest Card to collect a stamp from each station.  It takes perseverance and skill to find all the objects.  Great fun for all ages!
New this year!
Fort Ticonderoga's youngest guests will have a chance to explore the Heroic Maze in the new kiddie corn maze.  Taking less than 5 minutes to navigate with no fear of getting lost, little ones will be in and out in no time.
Experience the maze at night!
Maze by Moonlight
Explore the 6-acre corn maze using your flashlight as a guide and under the light of the full moon.  The mysteries of the night surround you as you search for hidden stations in the maze to complete our Archeology Quest in the Corn game!  Cost is $10 per person; tickets available at the door; last ticket sold 1 hour prior to closing. Maze by Moonlight event dates are Tuesday, August 20, Saturday, September 21, 8 pm-11pm and Saturday October 19, 7 pm 10 pm. Group Visitors School field trip groups, and other group tours, will have the fun opportunity to learn about Fort Ticonderoga's dramatic story while building teamwork skills as part of this interactive, interdisciplinary quest.  In September and October, the Heroic Maze will be open for group visits on Thursdays and Fridays from 10 am until 2 pm. Registration is required. Fort Ticonderoga developed the Heroic Maze with a professional maze design company from Utah that used computer technology to translate intricate designs onto the landscape, creating a fun and exciting quest. The agricultural history at Fort Ticonderoga dates to 1756 when the French built the Garrison Gardens below the walls of the Fort. Today the formal display King's Garden, along with educational Discovery Gardens, protected battlefields, sustainable modern farming practices, and the corn maze continue this legacy.  All proceeds from the Heroic Maze support Fort Ticonderoga's mission to ensure that present and future generations learn from the struggles, sacrifices and victories that shaped the nations of North America and changed world history. The Heroic Maze: A Corn Maze Adventure! is sponsored by McDonalds of Ticonderoga. 
FORT TICONDEROGA
America's Fort TM
Located on Lake Champlain in the beautiful 6 million acre Adirondack Park, Fort Ticonderoga is a not-for-profit historic site and museum that ensures that present and future generations learn from the struggles, sacrifices, and victories that shaped the nations of North America and changed world history. Serving the public since 1909, Fort Ticonderoga engages more than 70,000 guests annually and is dedicated to the preservation and interpretation of Fort Ticonderoga's history.  Accredited by the American Association of Museums, Fort Ticonderoga offers programs, historic interpretation, tours, demonstrations, and exhibits throughout the year and is open for daily visitation May 17 through October 20, 2013. The 2013 season features the Fort's newest exhibit "It would make a heart of stone melt" Sickness, Injury, and Medicine at Fort Ticonderoga which explores early medical theory, practice, and experience as each relates to the armies that served at Fort Ticonderoga in the 18th century.  Admission price is $17.50 for adults, $14.00 for seniors (62 years and older), $8 children 5-12 years old, and children 4 years and under are free. Friends of Fort Ticonderoga also enjoy free admission. Visit www.FortTiconderoga.org for a full list of ongoing programs or call 518-585-2821. Fort Ticonderoga is located at 100 Fort Ti Road, Ticonderoga, New York. America's Fort is a registered trademark of the Fort Ticonderoga Association.
Photo
:
Fort Ticonderoga's Heroic Corn Maze will open August 15, 2013.
###
Contact
:                                                                                                                                                                                                                                      Beth Beth Hill 518-585- 2821
bhill@fort-ticonderoga.org