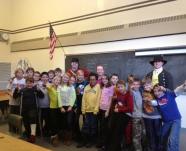 Ticonderoga, N.Y.
- Fort Ticonderoga is excited to announce two new additions to its year-round Interpretive Department staff. Shaun Pekar, Artificer Shoemaker, and Cameron Green, Military Programs Supervisor, recently joined the Fort Ticonderoga Interpretive Department. Stuart Lilie, Fort Ticonderoga's Director of Interpretation, said "These two individuals bring 18
th
century specific knowledge and broad vision for public education to Fort Ticonderoga's strategic drive to bring day to day historic details to life at Fort Ticonderoga, one of America's oldest and most significant historic sites in North America." He noted their "Skills and leadership allow the Fort to continue creating living history programs and events for visitors that are exciting and interesting. Equally important, the Interpretive Department is able to emphasize Fort Ticonderoga's commitment to excellence and historical accuracy as we portray those soldiers who struggled and died on this ground." Shaun Pekar's background in archaeology informs his reproduction work in shoemaking and other period crafts with a visceral understanding of real excavated artifacts. A North Country native, Pekar brings his extensive living history experience, discerning eye, mechanical skill, and passion for public education to this vital historic trade. A recent Sienna College graduate, Cameron Green applies his campus leadership and event coordination experience to military programs at Fort Ticonderoga. His youthful vigor is matched by his experience as an Interpretive Ranger with Saratoga National Historic Park and carpentry and farm intern with Colonial Williamsburg, as well as a lifelong pursuit of living history. "Fort Ticonderoga's brand as the leader in 18
th
century military historical interpretation was clearly identified in the Fort's recently completed Phase 1 Comprehensive Plan," said Beth Hill, President and CEO. "Relentlessly authentic in its approach, Fort Ticonderoga is seeing tremendous demand for its programs which are reaching new and growing audiences. The increased staff capacity enables Fort Ticonderoga to implement new year-round programs and supports the commitment to a dynamic experience for all Fort guests." Fort Ticonderoga's growth as an educational leader and major cultural destination will continue to expand in 2013 with a number of new tours integrating the site's landscape, special programs, and behind-the scene experiences.  To learn more about the 2013 season visit
http://www.fortticonderoga.org/
or call 518-585-2821.
FORT TICONDEROGA
America's Fort
TM
Located on Lake Champlain in the beautiful 6 million acre Adirondack Park, Fort Ticonderoga is a not-for-profit historic site and museum that ensures that present and future generations learn from the struggles, sacrifices, and victories that shaped the nations of North America and changed world history. Serving the public since 1909, Fort Ticonderoga engages more than 70,000 visitors annually and is dedicated to the preservation and interpretation of Fort Ticonderoga's history.  Accredited by the American Association of Museums, Fort Ticonderoga offers programs, historic interpretation, tours, demonstrations, and exhibits throughout the year and is open for daily visitation May 17 through October 20, 2013. The 2013 season features the Fort's newest exhibit
"It would make a heart of stone melt" Sickness, Injury, and Medicine at Fort Ticonderoga
which explores early medical theory, practice, and experience as each relates to the armies that served at Fort Ticonderoga in the 18
th
century.  Visit
www.fortticonderoga.org/
for a full list of ongoing programs or call 518-585-2821. Fort Ticonderoga is located at 100 Fort Ti Road, Ticonderoga, New York.
America's Fort is a registered trademark of the Fort Ticonderoga Association.
Photo:
 Shaun Pekar and Cameron Green are shown here with a class of elementary school students at a recent outreach program entitled "A Soldier's Life at Fort Ticonderoga."  Fort Ticonderoga expects to nearly double its reach to students in 2013 through several new educational initiatives.
Contact
: Beth Hill 518-585- 2821
bhill@fort-ticonderoga.org