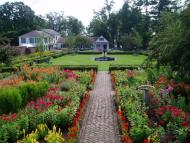 Season highlights include newly planted allée, Hands-on Horticulture Series, and new children's programs in July and August!
Ticonderoga, N.Y.
- Fort Ticonderoga's King's Garden opened for the season on June 1 with a stunning display of annuals and perennials already in bloom!  As the largest public garden in the Adirondack-Lake Champlain region and one of the oldest gardens in America, the King's Garden offers daily guided tours and self-guided activities for adults and children throughout the season.  New horticultural tours will be offered this year which highlight Fort Ticonderoga's horticulture program and give insight to the re-creation of an historic garden featuring the heirloom and modern varieties of plants and flowers that are displayed alongside each other. The King's Garden is open from 9:30 am until 5 pm daily, June 1 through October 8.  Admission to the King's Garden is included with a general admission ticket to Fort Ticonderoga.  For additional information on the King's Garden's and its 2012 programs visit
http://www.fortticonderoga.org/
or call 518-585-2821.
New this year!
? Guests will enter the garden through the newly planted allée of Red maples, a prominent feature of the landscape that has existed for nearly one hundred years.  This avenue of fifty trees connects the Fort and the Garden with dramatic flair!  ?
Beyond the Garden Gate
Horticulture Tour explores the King's Garden from a gardener's perspective.  Learn how the garden plantings evolve and what methods are used to plan, plant, and nurture the hundreds of varieties displayed throughout the garden.  Tours will be offered in July and August on Monday, Wednesday, and Friday at 10:45 am.  June, September, and October tours will be offered Saturdays and Sundays at 3:15 pm. ? Summer programs including
Growing Up with Gardening: Sow, Grow & Know
offer the opportunity for children ages 3-8 years to connect with plants and the environment.  The Discovery Gardens - Military Garrison Garden, Children's Garden, and Three Sisters Garden - are the setting for stories and hands-on activities on select Tuesday mornings in July and August at 10:15 am.  The popular
Hands-on Horticulture
Series returns this year, highlighting lavender, irises and for the first time, vegetable gardening.  ? The Garden Party fundraising event held on July 8 at 5 pm will be a celebration of the garden's beauty.  This year's theme will be "Fashion in the Garden."  Live music, food and good company within the walls of the King's Garden guarantee a magical afternoon.  The Garden Party is a benefit to support the preservation and educational programs for the exquisite King's Garden at Fort Ticonderoga.  Reservations are required.  To learn more visit
http://www.fortticonderoga.org/support/events
or call 518-585-2821. ? Stay in touch with the many King's Garden activities through Fort Ticonderoga's website, Facebook and other social media! Check out the
Flower of the Week
posted on Fort Ticonderoga's Facebook page
http://www.facebook.com/FortTiconderoga
and a King's Garden monthly blog is available for King's Garden fans at
http://www.fortticonderoga.org/blog/
.
About the King's Garden
The walled King's Garden was originally designed in 1921 by leading landscape architect Marian Coffin.  The formal elements - a reflecting pool, manicured lawn and hedges, and brick walls and walkways - are softened by a profusion of annuals and perennials, carefully arranged by color and form.  Heirloom flowers and modern cultivars are used to recreate the historic planting scheme. Visitor favorites include the lavender border, towering hollyhocks, bearded irises, dinner plate dahlias and many types of phlox. Outside of the nine-foot brick walls of the colonial revival King's Garden, the Discovery Gardens include a children's garden, military vegetable garden, and Three Sisters Garden. The restored Lord and Burnham greenhouse, charming gazebo, sweeping lawns and shady picnic spots invite visitors to explore the landscape at one of America's oldest gardens dating to the French occupation of the Fort in the mid-18
th
century.
FORT TICONDEROGA
America's Fort
Located on Lake Champlain in the beautiful 6 million acre Adirondack Park, Fort Ticonderoga is a private not-for-profit historic site and museum that ensures that present and future generations learn from the struggles, sacrifices, and victories that shaped the nations of North America and changed world history. Serving the public since 1909, Fort Ticonderoga engages more than 70,000 visitors annually and is dedicated to the preservation and interpretation of Fort Ticonderoga's history.  Accredited by the American Association of Museums, Fort Ticonderoga offers programs, historic interpretation, tours, demonstrations, and exhibits throughout the year and is open for daily visitation May 18 through October 18. The 2012 season features the Fort's newest exhibit
Bullets & Blades: The Weapons of America's Colonial Wars and Revolution
which highlights over 150 of the museum's most important weapons and is a comprehensive and expanded reinterpretation of its world renowned historic arms collection!  Visit
http://www.fort-ticonderoga.org/
for a full list of ongoing programs or call 518-585-2821. Funding for the 2012 season is provided in part by Amtrak.  Visit
http://www.fortticonderoga.org/visit/directions
for a special 2 for 1 Amtrak offer! Fort Ticonderoga is located at 100 Fort Ti Road, Ticonderoga, New York.
Photo:  The beautiful King's Garden at Fort Ticonderoga is one of America's oldest gardens and is the largest public garden in the Adirondack-Lake Champlain region.
###
Contact
: Beth Hill (518) 585-2821
bhill@fort-ticonderoga.org