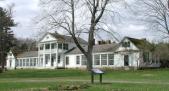 Premium Behind-Scenes-Tour Offered on Tuesdays in July and August
Ticonderoga, N.Y.
- For the first time ever, join Fort staff for a rare look at the Pavilion from the inside! The Exploration Tour examines the history and use of the Pavilion, the grand Pell summer home and one-time hotel and looks at the preservation and restoration opportunities it presents for Fort Ticonderoga as it plans the future use of the structure. Tours begin at 11am and will be offered on the following Tuesdays:
July 2, 9, 16, 23 and 30; August 6, 13 and 27. Tickets are $35 per person. Tour duration is approximately an hour and a half. Limited space is available for this rare experience and advanced reservations are required.  To learn more visit
http://www.fortticonderoga.org/visit/what-to-see/living_history/evening%20or%20call%20518-585-2821
.  "Fort Ticonderoga is extremely pleased to present this exploratory tour of the Pavilion," said Beth Hill, President and CEO.  "The tour engages our guests in the exciting process of history and historic preservation.  The walls of the Pavilion are telling us its story and we have the rare moment in time to witness it.  The research is unfolding before us and will inform the future adaptive reuse of this very important historic structure." Fort Ticonderoga has recently commissioned John G. Waite, Historic Preservation Architect, to conduct a Historic Structures Report and Interior's Study on the Pavilion.  The report findings will help inform Fort Ticonderoga's Comprehensive Plan which is currently underway and expected to be complete by the end of 2013. The Comprehensive Plan is being conducted by PGAV, a global destination planning firm. The Pavilion was built as a summer home in 1826 by William Ferris Pell.  He and his family occupied it 1830s.  By the early 1840s the house had begun to be used as a hotel, its primary function through 1900.  As a hotel the house welcomed travelers passing through Ticonderoga while traveling by steamboat on Lake George and Lake Champlain.  The hotel is known to have accommodated such guests as Robert Todd Lincoln, son of President Abraham Lincoln; the prominent French & Indian War historian, Francis Parkman; and prolific Adirondack photographer, Seneca Ray Stoddard.  When William Ferris Pell's great-grandson, Stephen H.P. and his wife Sarah G.T. Pell began the restoration of Fort Ticonderoga in 1909, they simultaneously undertook the restoration of the Pavilion and used the house as a summer residence for many years.  After Stephen Pell's death in 1950 his son John occupied the house through 1987. As one of the earliest summer homes and hotels in the region, the Pavilion is considered one of the most important historic structures in the Adirondacks. The Pavilion is a critical link spanning nearly two centuries of Fort Ticonderoga's history encompassing the stories of landmark preservation, the birth of American tourism, and monumental restoration. Recognized as the top destination in the Adirondacks by USA News Travel, Fort Ticonderoga connects all guests to a place and time that defined a continent, a nation, and its continued legacy. Fort Ticonderoga offers more than one hundred exciting and unique events and programs this season! Visit
http://www.fortticonderoga.org/
for a full list of ongoing programs or call 518-585-2821. Funding for the 2013 season is provided in part by Amtrak.  Visit
http://www.fortticonderoga.org/visit/directions
for a special 2 for 1 Amtrak offer!
FORT TICONDEROGA
America's Fort
TM
Located on Lake Champlain in the beautiful 6 million acre Adirondack Park, Fort Ticonderoga is a not-for-profit historic site and museum that ensures that present and future generations learn from the struggles, sacrifices, and victories that shaped the nations of North America and changed world history. Serving the public since 1909, Fort Ticonderoga engages more than 70,000 guests annually and is dedicated to the preservation and interpretation of Fort Ticonderoga's history.  Accredited by the American Association of Museums, Fort Ticonderoga offers programs, historic interpretation, tours, demonstrations, and exhibits throughout the year and is open for daily visitation May 17 through October 20, 2013. The 2013 season features the Fort's newest exhibit
"It would make a heart of stone melt" Sickness, Injury, and Medicine at Fort Ticonderoga
which explores early medical theory, practice, and experience as each relates to the armies that served at Fort Ticonderoga in the 18
th
century.  Visit
https://mail.fort-ticonderoga.org/exchweb/bin/redir.asp?URL=http://www.fortticonderoga.org/
for a full list of ongoing programs or call 518-585-2821. Fort Ticonderoga is located at 100 Fort Ti Road, Ticonderoga, New York.
America's Fort is a registered trademark of the Fort Ticonderoga Association.
Photo: For the first time ever, Fort Ticonderoga is offering a rare exploratory behind-the-scenes tour of the Pavilion, the Pell family summer home located at Fort Ticonderoga.  Tours will be offered on Tuesdays in July and August.
Photo credit Fort Ticonderoga.
###
Contact
: Beth Hill 518-585- 2821
bhill@fort-ticonderoga.org