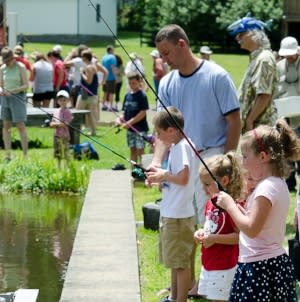 East Meredith, N.Y. – A sweet reward is coming thanks to all those who cut and hauled ice at the Ice Harvest Festival at Hanford Mills Museum. On that February day, more than seven tons of ice were cut from the Mill pond and then stored in the Ice House. On July 4th, that ice will be used to make ice cream on a steam-powered churn, and visitors to the Museum's Independence Day Celebration can sample the cool treat.
"Using the ice from February's Ice Harvest to make ice cream is a great way for us to demonstrate how people kept food cold in the days before mechanical refrigeration," says the Museum's executive director Liz Callahan. And to those concerned about tadpoles in the ice cream, Callahan said there's no need to worry. She said the ice is used to chill the outside of the churn, while the locally produced milk and cream is inside the churn.
The Independence Day Celebration, which runs 10 am to 4 pm on July 4, also features a fishing derby for kids, frog jumping contests, music, delicious food, and field games. Visitors also can tour the historic Mill and woodworking shop and see water- and steam-power demonstrations featuring the 1926 Fitz Overshot waterwheel, the steam boiler and steam engines. Children 12 and under, Museum members, and active duty military and their families, receive free admission.
The Hanford Mills String Band, which features Peter Blue on nyckelharpa, button accordion and percussion, John Potocnik on fiddle, Danny Birnbaum on bass, and Dave Raphelson on guitar and banjo, will perform. Tickled Pink BBQ  will be selling lunch and snack items, The Farmer's Wife will be selling pies, and Shaver-Hill Farm will sell maple products, including maple cotton candy. Visitors are welcome to bring a picnic.
 
Special Fun for Kids
Children 14 and under can take part in a fishing derby on the Mill Pond from 10:30 am to 1:30 pm, with prizes being awarded at 2 pm. Children can bring their own fishing poles and bait or borrow one of the poles that will be available courtesy of the Department of Environmental Conservation in Stamford. There also will be sack races, tug o' war, and frog-jumping contests (at 12:30 and 2:30 pm, bring your own frog). The Museum's new Learning Lab, a special place for kids 8 and under to explore and create, will be open, and kids can play with mini waterwheels, Imagination Playground blocks, gears, and more.
Steam Power Demonstrations
Hanford Mills Museum is one of the few places in the country that demonstrates steam power. "The Hanfords installed a steam boiler because it provided a more consistent, reliable source of power for the machines in the Mill," explains Callahan. "Generating steam power is labor intensive and requires specific expertise. Staff and volunteers make up the 'Steam Team,' whose experience, training and dedication enable us to run the boiler and steam engines just as the Hanfords did a century ago." She noted that while the Museum operates the waterwheel during tours offered every Wednesday through Sunday, steam power demonstrations occur only a few times a year. Visitors on July 4th can see both power sources.
"We invite everyone to come out for the Independence Day Celebration," says Callahan. "There is something for everyone in the family to enjoy."
About Hanford Mills Museum
Hanford Mills Museum operates an authentic water- and steam-powered historic site. The mission of Hanford Mills Museum is to inspire audiences of all ages to explore connections among energy, technology, natural resources and entrepreneurship in rural communities, with a focus on sustainable choices. The Museum which is listed on the National and New York State Registers of Historic Places is open Wednesdays-Sundays, 10 am – 5 pm.
Children 12 and under, and Museum members receive free admission. Admission is $9 for adults and teens, $7 for seniors and AAA members, and $4.50 for retired military. Hanford Mills participates in the National Endowment for the Arts Blue Star Museum Initiative, so all active duty Military and their families receive free admission. Through the Museums for All program, anyone with an EBT card also receives free admission. East Meredith residents (13757) and nearby zipcodes also get free admission. For more information, visit hanfordmills.org or call 607.278.5744.
Hanford Mills Museum is located at 51 County Highway 12 in East Meredith, at the intersection of Delaware County Routes 10 & 12, just 10 miles from Oneonta, and 15 miles from Delhi.
###
Contact:
Peg Odell
Communications Coordinator
Hanford Mills Museum
direct: 607/282-0295
Museum: 607/278-5744