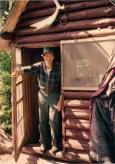 Blue Mountain Lake, N.Y.
- Join author Charles Yaple on Monday, July 16 for "Foxey Brown: The Story of An Adirondack Outlaw, Hermit and Guide." The program is part of the Monday Evening Lecture series. Yaple will tell the story of railroad worker and college student David Brennan who, convinced he had killed a man in a Boston barroom brawl, fled to the Adirondack Mountain wilderness in 1890.  Changing his name to David Brown, he became known as a crafty "Foxey" woodsman and popular guide, until a hunting trip tragedy led to one of the largest manhunts in Adirondack history. Living through the beginning of the American conservation movement, working class people like Foxey Brown tried to cope with increasingly strict State conservation laws and private parks, as their more traditional ways of life disappeared. This caused some individuals to resort to thievery, poaching, setting forest fires and even murder. The presentation will be held in the Auditorium at 7:30 p.m.  The lecture will be offered at no charge to museum members; the fee for non-members is $5.00. For additional information, please visit
http://www.adirondackmuseum.org/
or call (518) 352-7311. Charles Yaple's latest historical novel is
Foxey Brown:  A Story Of An Adirondack Outlaw, Hermit and Guide As He Might Have Told It
.  Yaple is Professor Emeritus of Recreation, Parks and Leisure Studies at State University of New York College at Cortland where, after thirty-five years, he continues to teach environmental and outdoor education courses.  Dr. Yaple is also Director of the Coalition for Education in the Outdoors and editor of
Taproot
, the organization's journal of outdoor education. Yaple was the co-founder, first Board president and long-time director (1997-2007) of the Lime Hollow Center for Environment & Culture in Cortland, N.Y.  It has been his great pleasure during his teaching career to help students see, understand, and love the land.  The Adirondack Museum, accredited by the American Association of Museums, offers 65,000 square feet of exciting exhibitions housed in twenty-two modern and historic buildings. Visitors can explore how people have lived, worked, traveled, and played in the Adirondacks from the 19
th
century up to today. The museum is supported in part by public funds from the New York State Council on the Arts, a State Agency. For additional information, visit
http://www.adirondackmuseum.org/
or call (518) 352-7311.
###
Contact
: Kate Moore, Marketing Manager (518) 352-7311, ext. 109;
kmoore@adkmuseum.org