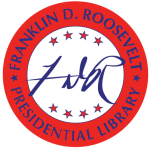 With Farah Jasmine Griffin Author Of Harlem Nocturne: Women Artists Of Progressive Politics During World War II
Pre-registration and Admission Fee Required
Hyde Park, N.Y.
-- The FDR Presidential Library, Catharine Street Community Center and the Roosevelt Institute proudly present the fifth annual Eleanor Roosevelt "We Make Our Own History" Forum. The 2014 forum is an author talk and signing with Farah Jasmine Griffin, author of 
Harlem Nocturne: Women Artists of Progressive Politics during World War II.
The program will take place in the Henry A. Wallace Center at the FDR Presidential Library and Home at 2:00 p.m. on Saturday, March 8, 2014. A reception will follow the event. Pre-registration and a $25 admission fee is required. Call (845) 473-2272 for information. To download the registration form visit: 
www.fdrlibrary.marist.edu/publicprograms/calendar.html
. As World War II raged overseas, Harlem witnessed a battle of its own. Brimming with creative and political energy, Harlem's diverse array of artists and activists launched a bold cultural offensive aimed at winning democracy for all Americans, regardless of race or gender. In 
HARLEM NOCTURNE
, esteemed scholar Farah Jasmine Griffin tells the stories of three black female artists whose creative and political efforts fueled this movement for change: novelist Ann Petry, a major new literary voice; choreographer and dancer Pearl Primus, a pioneer in her field; and composer and pianist Mary Lou Williams, a prominent figure in the emergence of Bebop. As Griffin shows, these women made enormous strides for social justice during the war, laying the groundwork for the Civil Rights Movement before the Cold War temporarily froze their democratic dreams. HARLEM NOCTURNE captures a period of unprecedented vitality and progress for African Americans and women in the United States.
Farah Jasmine Griffin
 is a professor of English and comparative literature and African American Studies at Columbia University, where she has served as director of the Institute for Research in African American studies. In addition to editing several collections of letters and essays she is the author of WHO SET YOU FLOWIN': THE AFRICAN AMERICAN MIGRATION NARRATIVE (Oxford, 1995), IF YOU CAN'T BE FREE, BE A MYSTERY: IN SEARCH OF BILLIE HOLIDAY (Free Press, 2001) and CLAWING AT THE LIMITS OF COOL: MILES DAVIS, JOHN COLTRANE, AND THE GREATEST JAZZ COLLABORATION EVER (Thomas Dunne, 2008).
Catharine Street Community Center
, in Poughkeepsie, New York, promotes and coordinates educational, health, and cultural programming that enriches and enhances the lives of individuals, children, and families. Visit 
http://www.catharinecenter.org/
.
Franklin D. Roosevelt Presidential Library and Museum
As generations of Americans that have no personal memory of the Roosevelt Era emerge, it is more critical than ever that the lives and legacies of Franklin and Eleanor Roosevelt be preserved and presented to new generations. The Franklin D. Roosevelt Presidential Library and Museum stands ready to serve as a visible and valuable resource for children and families, educators and students, and an international audience seeking to understand the past to make a better tomorrow. With a newly renovated building and new permanent museum exhibits the Library seeks to honor President Roosevelt's vision in dedicating his Library to the American people. The Roosevelt Library is one of thirteen presidential libraries administered by the National Archives and Records Administration. For more information about the Library or its programs call (800) 337-8474 or visit
www.fdrlibrary.marist.edu
.
# # # 
Contact
: Cliff Laube (845) 486-7745 or 
clifford.laube@nara.gov