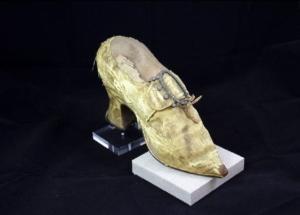 Explore one of the Museum's most popular exhibitions, and take a guided tour, from anywhere!
New York, N.Y. – Valuable, an exhibition at Fraunces Tavern Museum from November 4, 2016 through July 8, 2019, has gone digital. Explore the collection, which highlights the eight most valuable objects in the museum's collection, not only for their financial worth, but also for their contributions to preserving and interpreting American history and culture.
As you view this exhibition and the guided tour, consider the ways in which each artifact is valuable, and how we can use these artifacts to understand this period of America's history. Remember that ultimately, these artifacts are one of a kind, and therefore priceless.
Explore the exhibition here.
Photo: This ladies' slipper belonged to Martha Washington (1731-1802) who gifted it to Lady Mary Watts in 1789.
###