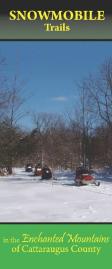 Little Valley, N.Y.
- Debra Opferbeck, Tourism Specialist for the Cattaraugus County Department of Economic Development, Planning and Tourism announced that the FREE  2009 - 2010 Snowmobile brochure and map is now available.  On one side of the brochure is a 24" by 18 ½" map of the trails with labels for trail numbers, junction numbers and a business legend for the gas, food or lodging. The brochure contains the name, address, phone number, longitudes and latitudes of the snowmobile related businesses through-out the County. The businesses are listed under the categories of: Eateries with Trail Access, Lodging with Easy Trail Access, Parking for Snowmobiles and/or trucks with trailers, Snowmobile Sales, Parts & Service, Gas Stations on the Snowmobile Trails and the Hidden Treasures of the Enchanted Mountains. Information about snowmobile registration in New York State and about the Snowmobile Clubs that maintain over 350 miles of trails that intersect Cattaraugus County is also included.  Cattaraugus County is home to Allegany State Park which includes more than 70 miles of well groomed snowmobile trails that also connect to the snowmobile trails in the Allegheny National Forest. For your FREE copy call us at 1-800-331-0543 or email us at
visitor@EnchantedMountains.info
. Copies of the brochure and map can be found at most businesses and Chamber of Commerce offices throughout the County. For more information about the Enchanted Mountains of Cattaraugus County and to download a PDF of the map visit our web site at
http://www.enchantedmountains.com/
. Additionally, our department has created downloadable points-of-interest for GPS units. One of these files contains a Major Road and Snowmobile Crossing csv that will alert a motorist when approaching a trail and road intersection. This file helps to promote safer roads and trails for our motorist and snowmobile riders. There are currently over 30 downloadable files for tourism businesses promotion in Cattaraugus County using the GPS technology, such as: Fishing and Hunting locations, Amish Shops and the New York Amish Trail, Equestrian Businesses, Bed & Breakfasts, Hotels/Motels, Museums and Galleries, Restaurants, Snowmobile POIs, Winter Fun and Gifts and Specialty Shops. These files, with directions for downloading, can be found on our web site at
http://www.EnchantedMountains.info/downloads/gps-map/
.
# # #
Contact
: Debra Opferbeck (716) 938-2242