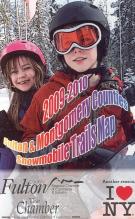 Fonda, N.Y.
- The Montgomery County Chamber of Commerce and the Fulton County Regional Chamber of Commerce and Industry announce the availability of the Fulton and Montgomery Counties Snowmobile Trails map. "There are approximately 400 miles of snowmobile trails to enjoy between the two counties.  The pocket-sized snowmobile map has a new look compared to the previous map," states Gina DaBiere-Gibbs, Montgomery County Tourism Director.  "Instead of advertising, we opted to keep the map winter themed highlighting winter activities such as skiing and ice skating, annual winter events, snowmobile safety guidelines, snowmobile club information, snowmobile sales and repairs, and more." "We are excited to have available for tourists and our residents this great resource for snowmobiling information and sledding trails within the two counties," states Terry Swierzowski, Vice President, Director of Tourism & Communications, Fulton County Regional Chamber of Commerce & Industry.  "We thank the county planning and highway departments for their help in putting together the information for this great map." For a free copy of the snowmobile map stop into the Fulton County Chamber office at 2 N. Main Street, Gloversville, the Fulton County Tourist Information Center at the corner of Routes 29 and 30 in Vail Mills, or the Montgomery County Chamber, 12 South Bridge Street, Fonda, across from the Fonda Fairgrounds.  For more winter activity information call the Fulton County Chamber at 1-800-676-3858 or the Montgomery County Chamber at1-800-743-7337.  A downloadable PDF version of the map is also located on the Montgomery County Tourism website
http://www.visitmontgomerycountyny.com/
on the Brochures page.
***
Caption: Snowmobile Trails Map Cover
Contact
: Gina DaBiere-Gibbs, Tourism Director Montgomery County (518) 853-1800, ext. 12