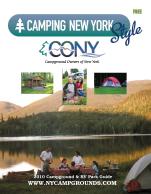 Camping is an affordable family-friendly vacation option this year
Campground Owners of New York
(CONY) has announced the availability of its 2010 Campground & RV Park Guide.  The guide is free and available by visiting
http://www.nycampgrounds.com/
and filling out the online request form, or calling CONY toll-free at (800) 497-2669. Entitled "Camping New York Style," the 100-page guide highlights the features and amenities for over 210 privately-operated campgrounds and RV parks across New York State. The guide is a handy reference tool for researching and booking just the right campsite for your next vacation. Camping and RVing are well entrenched as American pastimes. This year the recreational vehicle industry is recognizing 2010 as its 100
th
anniversary, as three prominent RV historians - renowned RV collector David Woodwoth, RV/MH Hall of Fame and Museum archivist Al Hesselbart, and Smithsonian Institution curator Roger White - cite 1910 as the beginning of this uniquely American industry. According to the RV Centennial website, the "mass-produced, manufactured auto campers and camping trailers first built that year were the forerunners of today's RVs and gave birth to a way of travel that has thrived through war and peace, booms and busts, and rapid technology advances." (
http://www.rvcentennial.org/
) Donald G. Bennett Jr., President and CEO of CONY, is pleased to offer a diverse selection of campgrounds and RV parks all across New York State. "Using the CONY directory, tenters and RVers alike will easily find something fitting their style and budget.  It could be a secluded grassy site by a river, or a full-hookup site with a concrete pad for their 40 foot motorhome." The directory also includes website addresses and driving directions for all the campgrounds and RV parks listed, and advertisements for vacation destinations and RV service providers. For vacationers that prefer not to tent or don't own an RV, other options exist including onsite cabin and trailer rentals at many campgrounds and RV parks listed in the CONY guide. Or, look into RV rentals from local or national RV rental companies.
About Campground Owners of New York
Campground Owners of New York, founded in 1963, is an association dedicated to the promotion, growth, improvement and development of privately owned campgrounds in New York State. More information about the association and its campgrounds - including a free camping directory - is available at
http://www.nycampgrounds.com/
. 
###
Image Caption:
Campground Owners of New York 2010 Directory of RV Parks and Campgrounds.
Contact
: Donald G. Bennett, Jr., President and CEO Campground Owners of New York
don@nycampgrounds.com
  (585) 586-4360