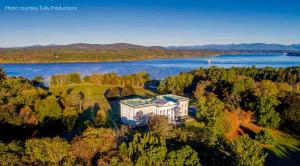 "What You See….and What You Don't See"
Staatsburg, N.Y. (7/6/20) — This summer, Staatsburgh State Historic Site will give free guided landscape tours on the Gilded Age estate's beautiful grounds overlooking the Hudson River.  The tour, entitled "What You See… and What You Don't See," will be offered Thursday, Saturdays, and Sundays. Reservations are required. To make reservations, visit www.Staatsburgh.Eventbrite.com  
In 1895, Staatsburgh's landscape architect designed a glorious setting that showcased the good life in the Gilded Age, while deliberately using landscape elements to hide the technology and labor that made a turn-of-the-century estate run. Using historic photos of the grounds, the tour will show what visitors would have seen 100+ years ago, but also "step behind the curtain" to reveal what was hidden from them.
The tour will be about one mile of mostly level terrain, with some uphill walking.  The program, including the walk, discussion, and looking at historic photos, will take about 1½ hours.  The event will be canceled in the event of heavy rain or excessive heat.  Staatsburgh follows all NYS Department of Health guidelines for safety during the COVID 19 pandemic.  Masks and social distancing will be required of all tour participants until these guidelines are lifted. 
In July, the tour will be offered on Thursdays at 10am on July 9, July 23, and July 30.  On the weekends, the tours will be offered as follows: July 11 at 10am; July 12 at 3pm; July 18 at 3pm; July 19 at 10am; July 25 and 26 at 10am.  
There is no charge for the tour, but visitors must register in advance.  Attendance will be limited to aid in social distancing.  To make reservations, visit www.Staatsburgh.Eventbrite.com
"On this guided walk, we will ask you to imagine being a guest of Ruth Livingston Mills, for one of her very exclusive and highly-sought-after invitations to a weekend party at Staatsburgh," says site educator, Don Fraser: "On a beautiful afternoon, you as a guest might stroll along the Hudson, or sail the river on the Mills' yacht, or take a carriage drive. The grounds would present you with stunning vistas and lovely gardens, but tucked out of view, the estate staff would be shoveling coal, generating electricity, laundering piles of cloths and linens, and tending to animals, and all that would be invisible to you the guest, unless you really searched.  We may also ask you to imagine being among the staff who had to perform these labors, out of view of family and guests: the experience of the estate would be very different for workers, although a position at Staatsburgh was considered an excellent job to get."
Staatsburgh State Historic Site and the Ogden Mills & Ruth Livingston Mills Memorial State Park are located on Old Post Road in Staatsburg, off Route 9 between Rhinebeck and Hyde Park. The historic site is one of 6 sites and 15 parks administered by the Taconic Region of New York State Office of Parks, Recreation and Historic Preservation. For more information, call 845-889-8851, or visit Staatsburgh's websites at https://parks.ny.gov/historic-sites/25/details.aspx , www.facebook.com/StaatsburghSHS and www.staatsburghstatehistoricsite.blogspot.com.
Staatsburgh's events are listed at https://parks.ny.gov/events/event-results.aspx?hs=25
The New York State Office of Parks, Recreation and Historic Preservation oversees 180 state parks and 35 historic sites, which are visited by 77 million people annually. A recent study found that New York State Parks generates $1.9 billion in economic activity annually and supports
20,000 jobs. For more information on any of these recreation areas, call 518-474-0456 or visit www.nysparks.com, connect on Facebook, or follow on Twitter.
###
Contact: 
Pam Malcolm, (845) 705-3368, pam.malcolm@parks.ny.gov