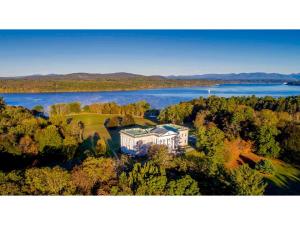 June 19 and 26 10:00 AM
Staatsburg, N.Y.  (6/14/20) — The beautiful park land of Mills Norrie State Park was once the setting of three grand Hudson River-front estates.  On June 19 and 26 at 10 a.m., staff from Staatsburgh State Historic Site will lead "Hidden History in the Woods," a guided hike through the park, exploring the history of the historic estates that were within what is now Mills Norrie State Park: Staatsburgh (Mills Mansion), The Point (Hoyt House) and Stonehurst.  Like so many other estates in the mid-Hudson valley, all three were connected to the powerful Livingston family. 
As they walk, visitors will learn about Staatsburgh's founding as a gentleman's farm in the 1700s, and the development of The Point and Stonehurst in the 1800s as country house estates.  The hike is roughly 1 ½ miles one way.  At the hike's end, visitors can explore further on their own, or walk with the guide back to Staatsburgh.
There is no charge to attend the hike, but visitors must register in advance.  Attendance will be limited to aid in social distancing. Staatsburgh follows all NYS Department of Health guidelines for safety during the COVID 19 pandemic. Unvaccinated visitors should wear a face covering when unable to maintain social distance outdoors. Social distancing will be required of all participants; assisted listening devices are available to make hearing easier. To make reservations, visit Staatsburgh.Eventbrite.com.  
Staatsburgh is offering a wide range of outdoor programs this spring and summer, for all ages. All programs are free but require registration. To see a full list of programs and to register, visit: www.Staatsburgh.Eventbrite.com
Staatsburgh State Historic Site and the Ogden Mills & Ruth Livingston Mills Memorial State Park are located on Old Post Road in Staatsburg, off Route 9 between Rhinebeck and Hyde Park. The historic site is one of 6 sites and 15 parks administered by the Taconic Region of New York State Office of Parks, Recreation and Historic Preservation. For more information, call 845-889-8851, or visit Staatsburgh's websites at Parks.NY.gov, Facebook, and Blogger. Staatsburgh's events are listed at Parks.NY.gov/Events. 
New York State Office of Parks, Recreation and Historic Preservation oversees more than 250 individual parks, historic sites, recreational trails and boat launches, which were visited by a record 78 million people in 2020. A recent university study found that spending by State Parks and its visitors supports $5 billion in output and sales, 54,000 private-sector jobs and more than $2.8 billion in additional state GDP. For more information on any of these recreation areas, visit www.parks.ny.gov, download the free NY State Parks Explorer mobile app or call 518.474.0456. Also, connect with us on Facebook, Instagram, and Twitter.
###
Contact:
Donald Fraser | Donald.Fraser@parks.ny.gov | (845) 889-8851 ext. 338