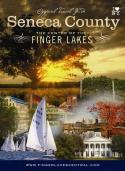 Seneca County, N.Y.
-
WHAT
:         Release of official
2013 Travel Guide,
completely overhauled travel tool, available in printed and digital versions, created to enhance tourism and visitation to major attractions located in central Finger Lakes region.
WHO:           
Seneca County Chamber of Commerce -official Tourism Promotion Agency (TPA), responsible for marketing and representation of Seneca County tourism-based attractions and businesses. 
WHY:
Highlights include
The last portion of a two-year overhaul process was completed for the 2013 guide. Designed by Clark CSM Marketing Communications, the new 40 page guide incorporates multi-dimensional imagery that seamlessly encompasses the entire top portion of 2-page, chapter spreads.
All-new cover designs concept features a half page back cover, that also acts as a self mailer- saving on postage, and allowing for duel distribution sizes to accommodate members' and distribution centers' various display spaces.
New condensed, categorized chapters created, to better-represent top themes to align with Seneca County branding efforts, and to meet travel-planning needs with simplifying process for finding key attractions.
New or enhanced featured-sections include: Weddings & Special Events, History/Heritage & Culture, and Agritourism.
Due to increased demand in 2012, printing of the 2013 guide increased from 100,000 to 110,000 copies that are distributed throughout New York, Canada, the Northeast.
Digital version available on http://www.fingerlakescentral.com/
In addition to featuring an image-heavy focus with less text, the new piece also introduces a newly refreshed photography library, showcasing experience-based images, seasonal scenes, and increased representation of area landscapes from various communities within Seneca County.
WHERE
:       2013 Seneca County Travel Guides are now available at the Seneca County Chamber of Commerce office and Visitor's Center, located at 2020 Routes 5&20 in Seneca Falls. Guides can be reserved and picked up by calling 1.800.732.1848, by emailing
info@senecachamber.org
, or by visiting
http://www.fingerlakescentral.com/
and downloading a free, digital version of the guide.
###
Contact
: Miranda O. Polmanteer Director of Communications and Tourism Promotion 315.568.2906