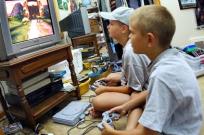 Rochester, NY
- Strong National Museum of Play brings the nation's foremost scholars on childhood to Rochester for Strong Perspectives, a free lecture series about the changing roles of children and play throughout American history.
Thursday, September 17,
7:30 p.m.
, "Gaming Beyond Gaming"
James Paul Gee, PhD, Professor of Literacy Studies, Arizona State University observes that video games are part of a larger trend in popular culture towards production and participation and not just consumption and spectatorship. Girls and women playing
The Sims
(the best-selling game in history, but disparaged by hard-core gamers) are leading this trend. Gee looks at what girls and women who are "gaming beyond gaming" have to teach us about learning in the 21st century. His most recent books on video games and learning include
What Video Games Have to Teach Us About Learning and Literacy
, and
Good Video Games and Good Learning: Collected Essays.
Thursday, October 8, 2009, 7:30 p.m., "Universality and Diversity in Children's Play"
William A. Corsaro, PhD, Professor of Sociology, Indiana University has spent more then three decades researching the peer culture of children. His participant/observer approach to child study is a departure from more traditional research strategies. Corsaro discusses two types of universal play routines in preschool children-approach avoidance, and dramatic role-play-and compares their relative importance. His acclaimed books include
The Sociology of Childhood
(a core college text),
Friendship and Peer Culture in the Early Years
, and
We're Friends Right?: Inside Kids' Culture
.
Thursday, October 22, 2009
,
7:30 p.m.
"The Making of Modern Youth
Culture" Kathy Peiss, PhD, Professor of American History, University of Pennsylvania considers how modern concepts of youth culture (dance-mad girls, jazz babies, and zoot suiters) arose in the twentieth century. Novel modes of leisure and consumption; changing dynamics of race, class, and gender; and a new class of experts to explain the problems of youth proved a potent combination, and set the stage for baby boomers and beyond. Her extensive writings about American popular culture include
Cheap Amusements: Working Women and Leisure in Turn of the Century New York
;
Major Problems in the History of American Sexuality;
and
Hope in a Jar: The Making of America's Beauty Culture.
Networking and light refreshments and book signings follow the lectures. Lectures are free, but advance registration is requested. To reserve your space, please call 585-263-2700 or send e-mail to
info@museumofplay.org
. The "Strong Perspectives" series is made possible by the Institute of Museum and Library Services.
###
About Strong National Museum of Play
Strong National Museum of Play®, located in downtown Rochester, New York, is the only museum in the world devoted solely to the study of play as it illuminates American culture.
Museum Hours:
Monday-Thursday, 10:00 a.m. to 5:00 p.m.; Friday and Saturday, 10:00 a.m. to 8:00 p.m.; Sunday, 12:00 noon to 5:00 p.m.
Admission Fees:
General Admission (does not include admission to
Dancing Wings Butterfly Garden
®): Adults $10.00; Seniors $9.00; Children (2-15) $8.00; Children younger than two free; Strong members free.
Admission to Dancing Wings Butterfly Garden®:
General Admission fee plus $1.50 for members, $3.00 for nonmembers; Children under 2 free. Entry is by timed ticket only. Please call 585-263-2700 to reserve and purchase tickets.
Contact
: Susan Trien, 585-410-6359
strien@museumofplay.org