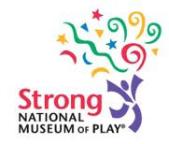 Rochester, NY
 -
Strong National Museum of Play
is bringing the nation's foremost scholars on childhood to Rochester for
Strong Perspectives
, a free lecture series about the changing roles of children and play throughout American history.
Monday, May 4, 7:30 p.m.-"Beyond Sentimentality: The History and Future of Childhood"
Steven Mintz, PhD, Director of the Teaching Center at the Graduate School of Arts & Sciences at Columbia University, shares the surprising history of American children from the Puritans to the Facebook generation. An authority on the history of the family and of children, Dr. Mintz is the author and editor of thirteen books, including
Domestic Revolutions: A Social History of American Family Life
and
Huck's Raft: A History of American Childhood.
Tuesday, May 12, 7:30 p.m
.
-"Not So Innocent? Images of Modern Childhood"
Gary Cross, PhD, Distinguished Professor of Modern History at Pennsylvania State University, considers how the American portrayal and understanding of childhood has changed across the twentieth century as early romantic images of the child were challenged and transformed by new ideas of what children are or should be. Dr. Cross is recognized for his research in the history of modern childhood, especially in the United States.
Thursday, May 28, 7:30 p.m.-"Inventing Modern Childhood"
Paula Fass, PhD, the Margaret Byrne Professor of History at University of California Berkeley, examines the impact of economic, educational, health, and family issues and concerns on modern ideals about childhood and play. Renowned as a pioneer in the field of children's history, Dr. Fass is the publications, including
The Damned and the Beautiful: American Youth in the 1920s
,
Outside In: Minorities and the Transformation of American Education
, and
Kidnapped: Child Abduction in America
. Networking and light refreshments follow the lectures.
Lectures are FREE, but advance registration is requested.
To reserve your space, please call 585-263-2700 or send e-mail to info@museumofplay.org. The
Strong Perspectives
series is made possible by the Institute of Museum and Library Services. Strong National Museum of Play®, located in downtown Rochester, New York, is the only museum in the world devoted solely to the study of play as it illuminates American culture.
Museum Hours:
Monday-Thursday, 10:00 a.m. to 5:00 p.m.; Friday and Saturday, 10:00 a.m. to 8:00 p.m.; Sunday, 12:00 noon to 5:00 p.m.
Admission Fees:
General Admission (does not include admission to
Dancing Wings Butterfly Garden
®): Adults $10.00; Seniors $9.00; Children (2-15) $8.00; Children younger than two free; Strong members free.
Admission to Dancing Wings Butterfly Garden®:
General Admission fee plus $1.50 for members, $3.00 for nonmembers; Children under 2 free. Entry is by timed ticket only. Please call 585-263-2700 to reserve and purchase tickets.
Parking:
Free parking is available at the museum for all guests on a first-come, first-served basis. Please note that, on high visitation days, the museum lot may reach capacity early in the day. If space is not available on site at the time of your visit, you will be directed to additional parking at neighboring municipal garages (fees may apply).
Contact:
Susan Trien, (585) 410-6359;
strien@museumofplay.org