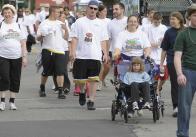 29 New Charities, Including American Cancer Society, American Heart Association and American Red Cross of Northeastern New York, Signed Up for 3/10 Informational Meeting at The Crossings
Non-Profits to Receive Fundraising "Freihofer's Walk in a Box Kit"
Albany, N.Y.  
- With a growing number of non-profits struggling to raise funds in a tight economy, Freihofer's Community Walk officials are expecting to double the number of regional charities participating in the 22nd annual event, slated for Saturday, June 5 at 12:30 p.m. at the Empire State Plaza. To educate new and returning participants about the event, provide tips for getting the most revenue possible from the three-mile walk, as well as highlight changes for 2010, including the new walk start time (12:30 p.m.), event organizers will host a Freihofer's Community Walk kick-off breakfast on Wednesday, March 10 at The Crossings of Colonie's meeting room.  Registration begins at 7:45 a.m. The program, which includes refreshments, runs from 8-9 a.m. "The Freihofer's Community Walk is a unique fundraising opportunity that's really too good to walk away from," said Event Director George Regan, noting that 29 new non-profits have already registered for the breakfast, including national charities such as the American Cancer Society, American Heart Association, American Red Cross of Northeastern New York, the Boys & Girls Clubs of Southern Rensselaer County, and Big Brothers Big Sisters of the Capital Region.  "The baking company supplies all of the food, entertainment and logistics.  All non-profits have to do is form a team from their supporters, volunteers and board members and then put these pledges to work for their organizations." At the upcoming meeting, all attendees will receive a "Freihofer's Walk in a Box Kit." The handy marketing, fundraising and registration toolkit, which is placed inside a Freihofer's chocolate chip cookie box, includes customizable posters and brochures for each non-profit, information sheets, agreement forms, and a color route map. "Non-profits are always challenged to find ways to bring in new revenue, especially during a difficult economy," added The Stakeholders Foundation CEO Catherine Hedgeman, whose organization is helping to steer the planning committee, recruit volunteers and walk teams.  "The walk is a great way to raise both awareness and money for many causes without worrying about the logistics or incurring any overhead." Held in conjunction with the Freihofer's Run for Women, the Freihofer's Kids' Run and CapitalCare Health & Fitness Expo, the Community Walk has raised $1.1 million to date.  Last year 572 walkers from 51 non-profits walked the scenic course, which steps off from Madison Avenue. There is no fee to participate in the walk and charities keep 100 percent of all funds raised. For more information and to register for the upcoming breakfast meeting, please call Alicia Jacobs of AJ Management at (518) 669-9806, or email ajmgnt@aol.com. The breakfast registration deadline is March 5th, due to limited seating. Additional information about the Freihofer's Community Walk is available at
http://www.freihofersrun.com/
. Stakeholders Foundation volunteers include: Courtney Haydock, M&T Bank (co-chair); Tony Mancuso (co-chair); Michael Howard, At Your Service; Leah Ziamandanis, Garnet River; Ryan Hanley, The Guilderland Agency; and, Mark Walter. Freihofer's Community Walk sponsors include the Charles Freihofer Baking Company, Price Chopper Supermarkets, The City of Albany, Fox 23 News, B95.5, the Times Union, 74 State, CSC, Subway, and Dale Miller.
###
About Freihofer's
: 
Freihofer's, a leading baker of wholesome products, is committed to fostering the growth and recognition of women in sports and inspiring all generations of women to experience the benefits of exercise and good nutrition. Freihofer's continues to set the pace by sponsoring the annual Freihofer's Run for Women 5K. Now in its 32nd year, the event, which is home to the Master's World & U.S. All-Comers record, features thousands of women of all ages and abilities from Olympians to recreational joggers, who challenge themselves on the picturesque 3.1-mile course.  For more information, visit freihofers.gwbakeries.com.
Contact
: Edward Parham, Director of Public Relations Rueckert Advertising and Public Relations Tel: (518) 446-1091