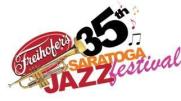 Sat, June 30 - Sun, July 1
Landmark 35th Anniversary to Feature Superstars Including Diana Krall, Chris Botti, Esperanza Spalding, Trombone Shorty and Dozens More
Saratoga Springs, N.Y.
- Jazz superstars and rising stars will converge on Saratoga Performing Arts Center this weekend for the 35th Anniversary of the Freihofer's Saratoga Jazz Festival, June 30 - July 1. This two-days, two-stages celebration will feature top artists including Diana Krall, Chris Botti, Esperanza Spalding, Trombone Shorty, Maceo Parker, the Yellowjackets, Hiromi, Christian McBride and dozens more. One of the most celebrated and longest-running jazz events in the world, the festival has entertained more than half a million fans since it was established by George Wein in 1978. Its landmark anniversary was recently recognized with a New York State Senate Resolution sponsored by Senator Roy McDonald (43rd SD) and a Proclamation issued by Mayor Scott Johnson of Saratoga Springs. Tickets, which start at $55 for lawn admission, are available at
http://www.spac.org/
.
###