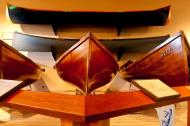 Blue Mountain Lake, N.Y.
- The Adirondack Museum invites year-round residents of the Adirondack Park to visit free of charge
every Sunday, and on all open days in May and October. Proof of residency such as a driver's license, passport, or voter registration card is required. This year, visitors will be invited to take a fresh look at the Adirondack Museum using the terrific new audio tour.  The voices of real people who live in the Adirondacks today will guide visitors to a deeper understanding of the museum's exhibitions, it dramatic setting, and what makes the Adirondacks unique. The Adirondack Museum re-opens for its 55
th
season on Friday, May 25, and is open 7 days a week, from 10:00 a.m. - 5:00 p.m., through October 14.  The museum will close at 3 p.m. on August 10 and September 7 for special event preparations. The Adirondack Museum, accredited by the American Association of Museums, offers 65,000 square feet of exciting exhibitions housed in twenty-two modern and historic buildings. Visitors can explore how people have lived, worked, traveled, and played in the Adirondacks from the 19
th
century up to today. The museum is supported in part by public funds from the New York State Council on the Arts, a State Agency. For additional information, visit
http://www.adirondackmuseum.org/
or call (518) 352-7311.
###
Photo:
Adirondack guideboats
Contact
: Kate Moore, Marketing Manager (518) 352-7311, ext. 109
kmoore@adkmuseum.org