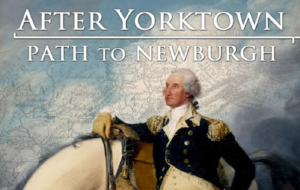 Newburgh, N.Y. – To many the Siege of Yorktown in October of 1781 is seen as the end of the War for American Independence. Come to Washington's Headquarters State Historic Site's presentation, "After Yorktown: The Path to Newburgh," on Saturday, June 17th at 2:00 PM and listen to why this is far from the truth.  Hear about the events that occurred after Yorktown that paved the way for General Washington's stay at the Hasbrouck House in Newburgh from 1782 to 1783.
This special presentation, a Path Through History event, is free with  Museum admission which includes a guided tour of the historic Headquarters and the freedom to explore the Museum, which houses the multi award-winning exhibit, Unpacked & Rediscovered: Selections from Washington's Headquarters' Collection.
For more information call (845) 562-1195.
Washington's Headquarters State Historic Site is a registered national historic landmark.  It is located at the corner of Liberty and Washington Streets within the city of Newburgh's East End Historic District.  The site is one of 35 historic sites within the New York State Office of Parks, Recreation and Historic Preservation and is one of 28 facilities administered by the Palisades Interstate Park Commission in New York and New Jersey.  For further information contact: (845) 562-1195.  For more information about New York State Parks, please visit our website at www.nysparks. com.   For more
information call 845-562-1195 or visit us on Facebook at www.facebook.com/washingtonsheadquarters.
###
Contact:
Elyse B. Goldberg | elyse.goldberg@parks.ny.gov | 845-562-1195