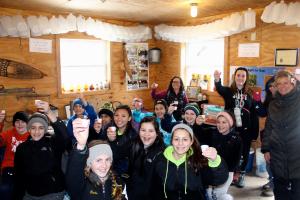 March 21st, 22nd, 28th, and 29th
Claryville, N.Y. — Have you ever wondered how maple syrup is made? Frost Valley YMCA announces Open Houses for individuals and families to tour its maple sugaring operation and learn all about how pure maple syrup is made. Maple Sugaring Open Houses will take place from 10 a.m. – 4 p.m. on March 21st, 22nd, 28th, and 29th.
Families are encouraged to visit Frost Valley's Maple Sugar House, which sits one mile east of the main entrance during one of the Open Houses. The main entrance, marked by prominent signage, is located at 2000 Frost Valley Road in Claryville. Learn how to identify a sugar maple tree, how sap is collected, and how that sap is turned into maple syrup. 
Frost Valley first began maple sugaring in 1978 using buckets to collect the sap from sugar maple trees. At that time, only a few hundred buckets were used. Today, Frost Valley uses tubing and a vacuum pump system to collect the sap and large tanks for storage.

Advance registration for the Maple Sugaring Open Houses is not required. For more information, contact the Natural Resource Department at 845-985-2291 ext. 217.
For families looking to stay overnight for these or other weekends from September through June, Frost Valley offers a host of exciting winter activities like snow tubing, cross country skiing, winter hikes, and snowshoeing depending on the weather in addition to indoor activities like climbing, archery, games, and crafts. A variety of lodging options are available. To make a reservation or for more information visit www.frostvalley.org, call 845-985-2291 ext. 450, or email reservations@frostvalley.org.
Photos and interviews are available upon request. Please contact Chief Brand Experience Officer Amanda Hinski at ahinski@frostvalley.org.

About Frost Valley YMCA: Frost Valley YMCA is a values-driven organization that fosters youth development, healthy living, and social responsibility through outdoor educational and recreational programs for all. Located in the heart of the Catskill Mountains, Frost Valley provides year-round access to nature and fun through programs such as summer camp, adventure trips, farm camp, equestrian programs, group and family retreats, family weekends, school trips, teambuilding and more. Frost Valley, a not-for-profit organization chartered through the YMCA of the USA, is guided in this pursuit by its core values which serve as pathways for guests as they bond with nature and each other: Caring, Community, Diversity, Honesty, Inclusiveness, Respect, Responsibility, and Stewardship.
                                ###

 
Photo: Frost Valley YMCA Maple Sugaring Open Houses.jpg
 
Contact: Frost Valley YMCA
Tel: 845-985-2291
Email: info@frostvalley.org