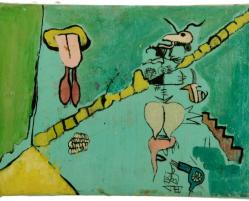 Exhibition Dates: March 5-
March 28 2010
Opening Reception:
Friday, March 5th, 6pm to 9pm
Garnerville, N.Y.
- GAGA Arts Center will be presenting the procative and enchanting exhibition
FICTIONS
Salon des Refuses 2K10 (French for "Salon of the Refused'), March 5-28.  Visitors will discover an exciting and eclectic collection of experimental and innovative artworks. While some of these artists have been overlooked by the curators of some recent large group exhibitions, one finds that the work in this show captures the adventurous spirit of risk-taking, international artists who are moving art forward out of sheer survival.  The variety of experimental art, materials, and styles in
FICTIONS
is organized to open dialogue, posit new ideas and expand cultural horizons.  The artists selected to exhibit dare to develop new language in all media that doesn't fit into neat categories and boundaries-simply put, their work breaks rules.  The distinguishing element running through all the work in this show is that fiction is more real than fact--analogous to contemporary life.  The 8,000 square foot, 19
th
Century Dye Works Gallery at GAGA Arts Center is a dramatic environment for this artists' salon.
Ezra Talmatch
Ezra Talmatch's work is so New York, so gritty, street smart, east village that you can't get any closer to street language, but it is accomplished with such enormous skill that it creates a tension with the refinement of the Artworks.  He has an extraordinary amount of artistic energy whether he is simply drawing, creating dry frescos or massive-construction material environments, or embellishing prints and creating virtual atmospheres. Talmatch constructs and destructs himself at the same time. His work is frighteningly evocative. You've never seen dry-frescos like this before.
Brian Leo
Brian Leo is a great colorist and pop-minimalist whose work creates a surrealist's sense of dramatic humor. His particular way of putting colors together is totally unique. The colors are very unusual, their qualities are irresistibly attractive and beautiful; he has an outstanding command chromatically. These forms have no relationship yet they do relate.  Leo fires off imagery and icons in ways that connect synapses and neurolinguistic pathways that you've never experienced before.  If Phillip Guston lives--he lives through Brian Leo.
Gallery Hours:
Fridays- 4-8PM, Saturdays 2-6PM and Sundays 12-4PM
Location and Contact Information:
GAGA is located at the Garnerville Arts & Industrial Center, 55 Railroad Avenue, Garnerville, NY 10923 in the Village of West Haverstraw, Rockland County. For directions and additional information, visit:
http://www.gagaartscenter.org/
; call 845-947-7108, or email
gaga@garnervillearts.com.
###
Contact:
James Tyler, Executive Director- 845-548-8918