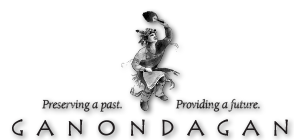 June 2-3 Weekend Features Fascinating Women: Historian and author Sally Roesch Wagner, Mohawk Clanmother Louise McDonald, and Botanist/Author Robin Wall Kimmerer 
Victor, N.Y.— June programming at Ganondagan jumpstarts with a full weekend June 2 and 3. An "around the table" conversation compares traditional and cultural roles of Hodinöhsö:ni' and Euro-American women, followed by a day to realize peace through the natural world.
Saturday, June 2 (1 - 3 pm)
Around the Table: Conversations About Hodinöhsö:ni' Women from Creation to Today: Sally Roesch Wagner, author, historian and former executive director of the Matilda Joslyn Gage House joins Mohawk Clanmother Louise McDonald for a fascinating discussion on women's spiritual, economic, social, and political roles in Hodinöhsö:ni' and Euro-American culture. They will reflect on the largely ignored and untold history of the impact Hodinöhsö:ni' women had on the minds of the leaders of the American Women's Rights movement including Matilda Joslyn Gage, Elizabeth Cady Stanton, and Susan B. Anthony. These and other women had direct and personal contact with Hodinöhsö:ni' women that had a significant positive impact on their fight for equality. Cost at the door: $10/general public; $5/Friends of Ganondagan members.
Sunday, June 3 (10 am - 4 pm)
Realizing Peace through the Natural World: Botanist, teacher, mother, and beloved author Robin Wall Kimmerer will engage attendees in an interactive presentation on "The Gifts of Plants," exploring the ways in which native plants offer gifts of food, materials, medicine, and beauty. Kimmerer shares her understanding of how plants are our oldest teachers. She encourages humans to act in reciprocity by giving their gifts to care for plants. Following the discussion and book signing will be a light Iroquois White Corn lunch. After lunch, Finger Lakes Forest Therapy leads a walk on Ganondagan's trails for a full sensory experience with nature and to create a deeper connection with the Earth. Forest therapy is based on the Japanese Shinrin-Yoku, a guided practice to access the peace, vitality, creativity and renewal of the forest.  Cost: $40/general public, $35/Friends of Ganondagan members. To register, call (585) 742-1690 orhttp://www.ganondagan.org/Events-Programs. 
###
Who: Sally Roesch Wagner with Clanmother Louise McDonald (Saturday); Robin Kimmerer and Finger Lakes Forest Therapy (Sunday)
What: Around the Table Conversations about Hodinöhsö:ni' Women (Saturday) and Realizing Peace Through the Natural World (Sunday)
When: Saturday, June 2 (1-3 pm) and Sunday, June 3 (10 am - 4 pm)
Where: Ganondagan State Historic Site and Seneca Art & Culture Center at Ganondagan, 7000 County Rd 41, Victor, NY
For more: Visit http://ganondagan.org/Events-Programs