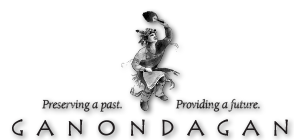 Full day of learning, foraging, harvesting, preparing and eating under the expertise of Native Chef Arlie Doxtator, Indigenous Food Advocate Angela Ferguson and many others
Victor, NY— Ganondagan's first-ever day of culturally immersive, community culinary experience has been announced for Saturday, September 8, from 9:30 am - 7:00 pm. Participants in the "Indigenous Food Gathering and Tastings" event will experience the authentic roots, culture, and healthy traditions of the Hodinöhsö:ni' people.
Highlights include presentations and interactive culinary experiences with Native American chefs and Indigenous food advocates, traditional and contemporary food foraging and adventures, a harvesting workshop, hands-on food preparation, and a collaborative, communal dinner.
Morning registration, a plant walk and food harvesting workshop selection will be followed by Ganondagan State Historic Site Manager Peter Jemison (Seneca/Heron Clan) sharing the traditional Hodinöhsö:ni' Thanksgiving Address, the Ganö:yög. Dating back over 1,000 years, the Thanksgiving Address brings about good minds and a shared peaceful mindset, gives thanks to the Creator, one another, and Mother Earth. 
Chef Arlie Doxtator (Oneida/Turtle Clan) will highlight the introductory presentation. An executive chef with nearly 30 years of experience, Doxtator is committed to bringing cultural foods and healthy cooking techniques to promote healthier lifestyles for the Oneida Nation and other communities. His latest project is "Re-Matriating Original Peoples, Original Foods," connecting indigenous people to their original foods and cooking techniques, focusing on returning traditional foods, health and knowledge to his people using traditional and contemporary techniques. 
Indigenous food advocate and seed saver Angela Ferguson (Onondaga) will share the importance of restoration and agriculture to the Haudenosaunee, focusing on the interconnectedness of corn. Ferguson is known for her distinctive meals using traditional Native American ingredients.
An Iroquois White Corn-inspired lunch including soup, cornbread and salad will be served in preparation for the afternoon's Botanical Trail Plant Walks and Food Harvesting, and Food Preparation break-out workshops, including:
Native Medicine Plant Walk on the Earth is Our Mother Trail – led by Peter Jemison (Seneca) and naturalist Shoshana Perrey, participants will learn about the healing elements of medicinal plants, and learn how to make tea with some of the identified plants.
Haudenosaunee Food Forests - led by Cornell University Doctoral Student Samuel Bosco, this workshop will highlight getting to know some of the most powerful food medicines gifted by trees with a focus on native nut trees. 
Know Your Roots – led by professional forager Edward Blain, participants will learn to identify, responsibly harvest and prepare several different wild roots.
Native Medicine Teas – led by Shoshana Perrey and Peter Jemison. While on the botanic trailhead, participants will taste, smell, and discuss the flavors and healing properties of several medicinal and flavorful plants, and learn how to process and blend them for making fresh and dried teas.
Shades of Green – led by professional forager Avery McGuire, a variety of salad and braising greens will be gathered to be enjoyed as a salad of wilted greens. 
Arepas and Corn Culture - community activist and organizer Carolina Osorio Gil leads this workshop in which participants will learn how to make arepas—Colombian corn patties—through a technique using half Iroquois White Corn and half Colombian corn. Discussion of similarities in corn cultures, migration, and history in Haudenosaunee and indigenous cultures.
 
Remaining in break-out groups, participants will partake in a food processing workshop, presenting their foods and medicines, sharing their experiences, and incorporating their harvest to prepare tastings as a dinner accompaniment. 
As a prelude to dinner, participants will enjoy the music of singer/songwriter Eli Carr (Mohawk). The evening culminates in an indigenous, communal dinner by Chef Doxtator and the other Native chefs, featuring locally sourced, indigenous food and tastings from the days' harvest. Family-style dinner Community building and further discussion about the days' cultural experience. 
Registration is required by Tuesday, September 4. Cost is $95/general public, $75/Friends of Ganondagan members. For tickets and more information, visit: https://bit.ly/2w38LAp or call (585) 742-1690. This event is made possible with the generous support of the Rochester Area Community Foundation and Excellus BlueCross BlueShield.
###
Calendar:
Who: Native American chefs and Indigenous food advocates, foragers, 
What: A full-day event of "Indigenous Food Gathering and Tastings"
When: Saturday, September 8, 9:30 am-7:00 pm
Where: Ganondagan State Historic Site, 7000 County Road 41, Victor, NY
Cost: $95/General Public, $75/Friends of Ganondagan members. Registration closes on September 4. For tickets and more information, visit: https://bit.ly/2w38LAp
MEDIA CONTACT:
Amy Blum PR
(585) 425-1864