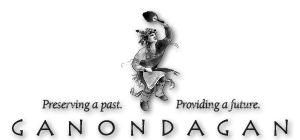 Bringing the Natural World to the Virtual World
Iroquois Social Dancers, Artisan Demonstrators, and Storyteller Filmed Against Ganondagan's Natural World for "Virtual Ganondagan Summer Experience"
Victor, NY— Not to be daunted by the coronavirus-necessitated cancelation of its Indigenous Music & Arts Festival, Friends of Ganondagan has announced its first "Virtual Ganondagan Summer Experience," July 23-25, the dates of originally scheduled festival, filmed outdoors at Ganondagan State Historic Site's natural world.
Programming will be a viewable through a combination of Facebook Live and YouTube. On Friday, July 24, the popular Bill Crouse (Seneca) and the Allegany River Dancers will be performing in their traditional regalia outdoors in front of the Bark Longhouse, viewable on Ganondagan's Facebook Live at 11 am.
During the weekend of July 25-26 and beyond—and viewable/sharable on YouTube—will be:
Storyteller Perry Ground (Onondaga) telling traditional water being stories, filmed at Ganondagan's picturesque Trout Brook

Lacrosse player/stickmaker William ("Snooky") Brooks (Seneca) joined by Ganondagan Site Manager Peter Jemison to discuss lacrosse stick-making, filmed in Ganondagan's lush woods

Artisan Ronnie Reitter (Seneca) demonstrating traditional cornhusk doll-making, filmed at the Three Sisters Garden

Artisan Bill Crouse (Seneca) demonstrating water drum and gustoweh (Haudenosaunee men's traditional headdress) making
"Despite the cancelation of this year's festival, it was important that we continue sharing our cultural experiences," explained Friends of Ganondagan Executive Director Meg Joseph. "Not only does our reinvented programming offer a sampling of our popular festival presenters and performers, it also supports Haudenosaunee artists by providing a platform for their talent and skill. With a virtual presence, we hope to reach an even greater audience to share the living culture and natural world of Ganondagan." 
All programming is free. For more information, email info@ganondagan.org. Virtual programming is made possible by funding from the New York State Council on the Arts.

###
Media Contact: Amy Blum PR
(585) 425-1864