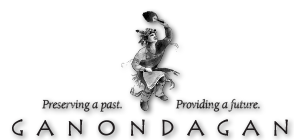 Community invited to participate in traditional winter games, both indoors and out
Victor, N.Y.—From Iroquois social dancing to storytelling, and from snowsnake to dog sled demonstrations, Ganondagan State Historic Site in Victor, NY offers a day of traditional, participatory Native American Winter Games on Saturday, February 24 from 10 am - 4 pm. Suggested donation is $10/family; $5/person, with a separate fee and registration for "Furry Friends and Turtle Tales." Food for purchase includes Iroquois White Corn pancakes, locally-sourced real maple syrup, and sausages.
"We believe in the importance of sharing traditions with the local community," said Friends of Ganondagan Executive Director Meg Joseph. "That includes Seneca and Haudenosaunee (Iroquois) winter activities. Historically, winter was a time for many indoor activities like storytelling, but also for outdoor fun. We know our visitors will enjoy many of our new activities, including our special 'Furry Friends and Turtle Tales,' as well as those they love from past years."
Activities will follow this schedule:
11 am and 1 pm: wampum bracelet making
11 am - 1:30 pm: watch the excitement of dog sled racing with Jo Lynn Stresing Kindred Moon Kennels and meet the dogs
11 am - 3 pm: learn about and try the competitive game of snowsnake, race small hand-held wooden snowboats along a snow track, and traverse Ganondagan in snowshoes
11:30 am and 2:30 pm: watch and participate in Iroquois Social Dancing led by Bill Crouse and the Allegany River Dancers
12:15 and 3:15 pm: storyteller Perry Ground brings Haudenosaunee stories to life
1:30 pm: a special "Furry Friends & Turtle Tales" workshop. Children will hear turtle stories, then build their own turtle stuffed animal. For 2nd graders and up, or younger with parent. $18/general public; $15/Friends of Ganondagan members. Pre-registration is required by February 19 by calling (585) 742-1690 or emailing meg@ganondagan.org.
2 - 3 pm: book signing by Jo Lynn Stresing of Under a Kindred Moon, her book detailing a life with sled dogs
Throughout the day, visitors will be able to visit our Wampum Learning Center, tour the exhibits at the Seneca Art & Culture Center, view The Iroquois Creation Story film, and participate in various children's activities. Food will be available for purchase from 11 am - 2:30 pm.
Ganondagan thanks sponsors Rochester Area Community Foundation, Rochester KidsOutandAbout.com, and Harris for helping to make this event possible.
###
Note: Interviews and photos are available on request.
CALENDAR:
Who: ​Individuals, families ​and children in the Rochester area community
What: 15th annual Native American Winter Games
When: 10 am - 4 pm, Saturday, February 24, 2018
Where: Outdoors and indoors at the Seneca Art & Culture Center at Ganondagan, 7000 County Road 41, Victor, NY 14564
Visit: http://bit.ly/2E72uX4
###
MEDIA CONTACT:
Amy Blum PR
amyblumpr@gmail.com (585) 425-1864