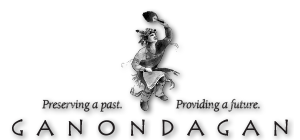 Fourth annual show reflects diversity of work by artists representing all six Haudenosaunee Nations
Victor, N.Y.—Haudenosaunee (Iroquois) artists residing throughout the United States and Canada have come out in record numbers to participate in Ganondagan's fourth annual juried Hodinöhsö:ni' Art Show to take place virtually on Friday, November 6 through December 31, 2020.
This year, works by 43 artists were accepted in the competitive show, representing all six Haudenosaunee (Iroquois) Nations: Mohawk, Oneida, Onondaga, Cayuga, Seneca, and Tuscarora.
"The juried Hodinosoh:ni Art Show this year has the most diverse work to date," remarked artist and Ganondagan State Historic Site Manager Peter Jemison (Seneca). "We had 111 separate pieces submitted from Six Nations' artists from across the United States and Canada. The quality of the art has improved steadily, and we have the opportunity to showcase the very best examples of basketry, painting, sculpture, beadwork and photography."
The art show viewing is free and will be open to the public through Ganondagan's website, accompanied by an online catalogue of the accepted works. All exhibited works will be available for purchase, although Ganondagan has right of first refusal. 
More than $14,000 in cash prizes will be awarded; winners will be revealed upon virtual gallery launch on November 6. 
This show is made possible by the generous support of Thaw Charitable Trust.
###
NOTE: Interviews and photos are available on request.
CONTACT: Amy Blum PR
myblumpr@gmail.com, (585) 425-1864