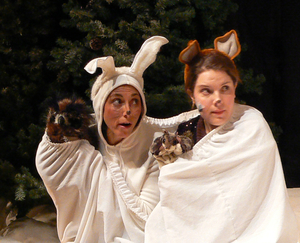 Rochester, N.Y.
- Gary the Happy Pirate, a gigantic doll house display, interactive performances of The Mitten, and more at the National Museum of Play in December.
December 3: Pirate Toy Fund Celebration with Gary the Happy Pirate
Bring a new, unwrapped toy for children in need and
join Gary the Happy Pirate for a special musical performance at the National Museum of Play on Saturday, December 3 at 2:15 p.m. 10NBC will tape a segment with Gary at 3 p.m. for the evening news. Pirate Toy Fund activities are included with general museum admission fees.
December 9: Eastman School Family Performance
Delight in an evening family performance by the Eastman School of Music on Friday, December 9 at 6 p.m. the peformance is included with general museum admission fees.
December 10 & 11 and 17 & 18: Winter Wonderland Weekends
'Tis the season for holiday fun at the National Museum of Play at The Strong during Winter Wonderland Weekends on Saturdays & Sundays, December 10 & 11 and 17 & 18. Join the "woodland animals" in an interactive performance of The Mitten, a Ukrainian tall tale about a boy who loses his white mitten in the snow. Performances take place on Saturdays at 11:30 a.m., and 1 and 2:30 p.m.; and on Sundays at 1 and 2:30 p.m. While at the museum, make a holiday card or mini paper gift basket, and mail a letter to Santa from the North Pole mailbox. Check out Miller Manor, a gigantic 19th-century-style dollhouse with 24 rooms, five stories, and 12 fireplaces decorated for the holidays and displayed in the museum's Caterpillar Atrium from November 21 through January 2, 2012. This seven-foot-long, four-foot-high dollhouse (one of the biggest in the museum's collection) is festively decorated with electric lights, tiny Christmas wreaths, and other h.   Guests are invited to drop off new mittens, gloves, scarves, hats, and socks at the museum through December 18 to benefit Hillside Children's Center's Special Santas Program (part of a collaborative effort with the Monroe County Public Library System). Winter Wonderland events are included with general museum admission fees.  Note to Calendar Editors: The museum closes at 4 p.m. on Saturday, December 24 (Christmas Eve) and on Saturday, December 31 (News Year's Eve). The museum will be closed on December 25 (Christmas Day).
###
Museum Hours:
Monday-Thursday, 10 a.m. to 5 p.m.; Friday and Saturday, 10 a.m. to 8 p.m.; Sunday, noon to 5 p.m.
Admission Fees:
General admission (does not include admission to
Dancing Wings Butterfly Garden
®
): Adults $13, Seniors $12, Children (2-15) $11, Children younger than two free, Museum members free.
Admission to
Dancing Wings Butterfly Garden
General admission fee plus $2 for members; $4 for nonmembers; children under 2 free. Entry is by timed ticket only.
Parking:
 Free parking is available at the museum for all guests on a first-come, first-served basis. Please note that, on high visitation days, the museum lot may reach capacity early in the day. If space is not available on site at the time of your visit, additional parking is available at neighboring municipal garages for a fee. The Strong is not responsible for fees incurred at off-site locations.
Contact
: Shane Rhinewald, 585-410-6365,
srhinewald@thestrong.org
Susan Trien, 585-410-6359,
strien@thestrong.org