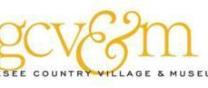 Mumford, N.Y -
Music at its most traditional will envelope Genesee Country Village & Museum on Aug. 17-18, as the museum hosts its Old-Time Fiddlers' Fair, the largest showcase of traditional music in Western New York. Musicians, ranging from the polished professional to the fledging beginner will fill a variety of venues with fiddlers and dulcimers.  Four official stages offer performances from individuals and groups, including one of the museum's historic 19th-century churches with its wonderful natural acoustics.  But smaller sites also draw fans, including the popular jamming tent, hosted by the Fiddlers of the Genesee.  New this year is a series of free musicians' workshops focusing on
Backup Guitar and Lost Tunes of New York on Saturday and the Appalachian Fiddle on Sunday.
In addition, the group Fox Den will host a country western open-mike stage in the museum's Meeting Center, while Mitzie Collins and the Striking Strings perform all day in the hammered dulcimer tent. All performers receive free admission to the event. General admission to the fair is $16.50 adult; $10.50 youths 4-16; $13.50 seniors 62+ and students with ID; free to children three and under and is included with the museum's day pass. Fiddlers' Fair is sponsored, in part, by the New York State Council on the Arts and by City Newspaper. Museum hours are 9:30 a.m.-4 p.m.  Admission is
adults $16; youth (4-16) $10, seniors 62+ & students with ID $13, children under 3 admitted free.
For more information, call (585-538-6822) or visit
http://www.gcv.org/
.
Photo by David Candlena
Genesee Country Village & Museum is the largest living history museum in New York State and the largest collection of historic buildings in the Northeast. The museum, with its  John L. Wehle Gallery and Genesee Country Nature Center, is open May 11-Oct. 14, and located in Mumford, N.Y., 20 miles southwest of Rochester and 45 miles east of Buffalo. For more information, visit
www.gcv.org
or call (585) 538-6822.
Hours:
May 11- Sept. 2
10 a.m.-4 p.m. Tuesdays-Fridays, weekends and holidays
Closed Mondays, except for May 27 & Sept. 2
Hours:
Sept. 4-Oct. 14
10 a.m.-4 p.m. Wednesdays-Fridays,  weekends and holidays
Closed Mondays & Tuesdays, except for Oct. 14
###
Contact:
Judy Markham
(585) 538-6822
jmarkham@gcv.org