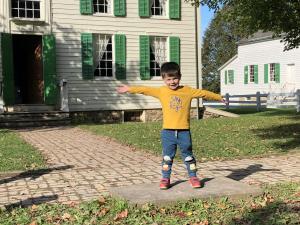 Mumford, N.Y. (June 22) – Genesee Country Village & Museum will open to the general public beginning Friday, July 3, in time for the Independence Day Celebration on Saturday, July 4. This family-friendly event will feature music, a reading of the Declaration of Independence, and a black powder shoot, with a focus on outdoor activities to allow for physical distancing and free movement of guests. In addition, many of the Museum's historic buildings will be open for the first time this season. Food will also be available at the Museum's Depot restaurant, and the newly-renovated Flint Hill Store will be open for business.  
GCV&M's historic buildings and programming this season will be re-imagined to allow for more outdoor demonstrations and one-way traffic through indoor spaces, while still offering the in-depth look at 19th-century life for which the Museum is known. Although the Wehle Gallery will not be opening until July 24, the majority of buildings in the Historic Village will be open and staffed with interpreters offering demonstrations of period cooking, trades, farming, and home life. 
GCV&M will be open 10 am - 4 pm each Friday through Sunday beginning July 3. Admission is $13 for adults, $10 for seniors and students, and $7 for youth ages 3 - 12. Advanced purchase tickets for Saturday, July 4 are available online at www.gcv.org at a discount of $1 off until 5 pm on July 3, and include express touchless entry to the Museum. For the safety of staff and visitors, mask-wearing is required, and common areas have been re-envisioned to allow for physical distancing while on premises.  
Summer camp returns to GCV&M the weeks of July 20 and 27 with The Best of Earth Camp: Outdoor Adventures. Based at the Museum's 500-plus acre Nature Center, this camp gives kids the opportunity to enjoy hiking, fishing, wading in Oatka Creek, learning basic survival skills, and outdoor exploration. GCV&M will expand its offerings to include the popular 19th-century Summer Sampler as well as the traditional Earth Camp programs from August 3 - 23. Campers will explore the Nature Center and Historic Village in small, age-specific groupings where they will play 19th-century games, learn about crafts and trades people, hike the Nature Center trails, fish, and explore the pond for aquatic life.  
GCV&M is working intently to ensure the health and safety of staff and campers by modifying class sizes and programs, and enforcing health and safety protocols to support campers and staff. Details and registration information can be found on the Museum's Summer Camp web page ( https://www.gcv.org/experiences/camps/summer-camps/ ) 
GCV&M is also offering several ways for the community to engage and enjoy the Museum remotely. Beginning July 8, a series of talks looks at life beyond the battles of the American Civil War, including the war's impact on medicine, women's empowerment, wartime adaptations at home, and abolition through the eyes of freed slaves in the North. "Beyond the War: The Struggle for Enfranchisement, Security, Health, & Peace in 1860's America" runs for five consecutive Wednesdays and is free for Museum Members, $8 per session for non-members or $25 for the series. Reservations are open now on the Museum's website gcv.org. News and updates are also shared through the Museum's social media channels, found at @gcvmuseum.  
For families and individuals looking to get outside this summer, GCV&M offers a variety of ways to explore history, nature, and art, along with wide-open spaces and a Great Meadow hill kids can't resist taking a roll down! Details on guidelines, admission, and hours can be found on the Museum's website gcv.org.  
Photo: Kids in Village, staff photo
GCV&M is the largest living history museum in New York State with the largest collection of historic buildings in the Northeast. The Museum, with its John L. Wehle Gallery, working brewery, vintage base ball park, and Nature Center, is located in Mumford, NY, 20 miles southwest of Rochester and 45 miles east of Buffalo. Visit www.gcv.org for more information. 
Contact: Jen VanRy