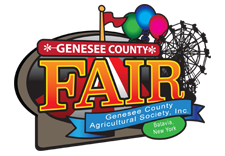 Batavia, N.Y. – One of the longest consecutively running county fairs in New York State, the Genesee County Fair is celebrating its 181st year. It will take place July 24 – 31, 2021 at the Genesee County Fairgrounds. A short drive from both Rochester and Buffalo, and just $10 per carload, it is one of the most affordable family activities of the summer. 
Run 100% by volunteers, the county fair continues to grow and once again includes a second weekend. Over the eight days of the fair, attendees will enjoy nightly live music, classic fair foods, meet and greets with animals and a Midway courtesy of Hammerl Amusements. Also this year, more free entertainment – including daily 4-H animal shows, daily pig races, wood carving and balloon demonstrations. Niagara County Down Under will be providing educational talks and visits with kangaroos, wallabies and tortoises for $10 per person or $35 per family.
The North American 6 Horse Hitch Classic Series is back, bringing one of the biggest Draft Horse Shows in New York in 10 years! The first show will be Fri., Jul. 23rd at 5:30pm, the evening before the fair official opens, for $5.00 per person. An additional Draft Horse Show will be held on Sat., Jul. 24th at 12:30pm at the horse show ring, included with fair entry.  
Another favorite event is returning to the fair this year. The Demolition Derby will take place on Fri., Jul. 30 with three classes: compact, full-size and junk run. Tickets are available for pre-purchase, starting at $10 for kids ages 5-12, $15 for kids 13-adult, and $35 for pit passes.
2021 Fair Highlights
·        Draft horse shows
·        Stock car racing
·        Demolition derby
·        Midway from Hammerl Amusement
·        Live music/entertainment every night
·        Daily 4-H shows
·        Food, games and vendors
·        Niagara Down Under Exhibits and Talks
·        Daily pig races
Entry
·        Jul. 24-31: $10 donation per carload includes parking and entry into fairgrounds
Midway and Grandstand Event Pricing
·        Jul. 28, 30 and 31: $10 Kids Day wristbands for rides, available 1-5pm
·        Jul. 30 Demolition Derby: $10 for kids ages 5-12, $15 for kids 13-adults, $35 Pit Pass
Daily entry and Demolition Derby tickets may be pre-purchased at: https://www.eventbrite.com/e/181st-annual-genesee-county-fair-tickets-159703524541
The Fair is hosting special deals for senior citizens, veterans, kids, and emergency responders on select days throughout the week. Guests can keep up with the deals and news on Facebook, where the fair will be holding four trivia contests to give away tickets to the Demolition Derby and coupons to the Ag Society's food stand, the Chuckwagon.
Event Schedule Highlights
7/23 North American 6 Horse Hitch Classic Series
7/24 Drive Your Tractor to the Fair Day, Fair Officially Opens @ 9 am 
7/25 Senior Citizen Day
7/26 Veteran's Day at the Fair
7/27 Celebrate 4H Day 
7/28 Kid's Day/Emergency Responder's Night
7/29 HP Hood Day
7/30 Senior Citizen Day
7/31 Family Day/ Drive Your Tractor to the Fair Day
To keep up-to-date on the latest happenings of the fair, visit the Genesee County Fair's Facebook page. The fair is also accepting applications for both sponsors and volunteers. For more information, visit gcfair.com
Entry into the fairgrounds with parking is $10 donation per carload. The Genesee County Fairgrounds are located at 5056 E Main Street Rd, Batavia, NY. All donations fund initiatives of the Genesee County Fairground.
###
Media Contact:
Colleen Onuffer
Break the Ice Media
O: 585-394-0787 x2