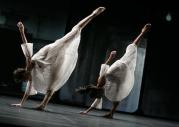 Multi-Media "Glacial Decoy" with Photography by Robert Rauschenberg Presented Aug 16 at 8 p.m.
Saratoga Springs, N.Y.
- The silken, fluid movement and choreographic imagination of legendary choreographer Trisha Brown will illuminate SPAC's stage on Tues, Aug 16 at 8 p.m. in a program of three brilliant works by the Trisha Brown Dance Company. The program includes Brown's multi-media masterpiece
Glacial Decoy
set against  Robert Rauschenberg's iconic photography of classic Americana. The company's performance will be preceded by a 7:30 p.m. Curtain Talk by art curator and historian Susan Rosenberg, who will discuss the works and vision of Trisha Brown. "As a founding member of the revolutionary Judson Dance Theater, Trisha Brown was at the vanguard of the postmodernist art scene in the 1970s. She brought an entirely new aesthetic to modern dance, creating works of startling originality and astonishing beauty, often characterized by a trademark fluidity inspired by pure human movement," said Marcia J. White, President and Executive Director of Saratoga Performing Arts Center. "Trisha Brown's impact on the dance world has been incalculable; it is a privilege to welcome the company to SPAC's stage to perform three landmark works as part of their 40
th
Anniversary season." An icon of contemporary dance, Trisha Brown was a founding member of the revolutionary Judson Dance Theater, a groundbreaking collective of choreographers who gave birth to the postmodern dance movement. Rejecting the technical and thematic structures that ruled modern dance at the time, Brown found the extraordinary in everyday movement. She developed and presented her groundbreaking style, which included dance in public and non-traditional spaces and dance performed without music, through her own dance company which she founded in 1970.  Her unique vision earned her two John Simon Guggenheim Fellowships, the MacArthur ("Genius Grant") Foundation Fellowship and the National Medal of Arts in 2000. Brown's repertory includes nearly 100 dance works including several operas, such as "L'Orfeo" and "Pygmalion." Her works have premiered around the world and are often seen in landmark opera houses in New York, Paris, and London.
The New York Times
has praised, "the company flows with movements that seduce, right down to a walk across a stage." Brown's dance company is currently celebrating its 40
th
year. The company will present:
¨ L'Amour au theater: Brown's latest work is accompanied by sections of Rameau's opera Hippolyte et Aricie, and set against a backdrop of Brown's own artwork. The piece features Brown's signature movement alongside elegant couplings and constantly shifting aerial architecture.
¨ Glacial Decoy: Considered a modern masterpiece, this work features a gorgeous rush of entrances and exits set against moving projections of Robert Rauschenberg images of classic Americana.
¨ Foray Forêt: Robert Rauschenberg costumes with a metallic-gold finish and light-catching design illuminate this work which The Village Voice explains as a vision of images appearing and disappearing "...the way a bird flashes into sight between trees or a gleaming fish slips to the surface of a pool, then twists and flicks back into darkness." This is a silent work with the exception of the sounds of a marching band.
Special note:
Sixteen high school band students from
Galway High School
will be performing in the dance company's presentation of
Foray Forêt
. Largely a silent work, the marching band will provide the sole musical accompaniment
.
Tickets:
TUES AUG 16 @ 8 p.m.: Trisha Brown Dance Company performance at SPAC; $30.
Ticket includes 7:30 p.m. Curtain Talk in the Amphitheatre by Susan Rosenberg, art curator and historian.
MON AUG 15 @ 6:30 p.m.:
Master Class
,
National Dance Museum; $25.
Tickets and information available at spac.org, by calling 518-584-9330 or at the Route 50 Box Office.
###
Contact: Shane Williams-Ness, 518.584.9330 x 116 M:518.378.0295
shane@spac.org
  Lisa Hill, 518.584.9330 x 119 M:518.496.2882
lhill@spac.org
;
http://www.spac.org/