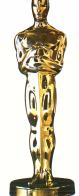 Popular movie-theme fundraiser, organized by the Eastman Young Professionals, features live music, dancing, and ceremony on the big screen in the Dryden Theatre
Rochester, N.Y.
- George Eastman House International Museum of Photography & Film will celebrate the 83rd Academy Awards® on Sunday, Feb. 27 with its 15th annual movie-themed Oscars® party - at the home of the father of motion picture film, George Eastman. This popular party is charged with all the excitement of Hollywood's big night, featuring live music, dancing, and the Academy Awards® ceremony on the big screen in the 500-seat Dryden Theatre, as well as on TV monitors throughout the museum. You'll feel like a star as you wave off the paparazzi walking down the red carpet. Inside the Eastman House, you'll be tempted by hors d'oeuvres and desserts while bidding on a plethora of silent-auction items (please see note at end about auction items online). Practice your acceptance speech as you pose for a portrait with an actual Oscar® statuette and make your way to the mansion to dance to the music of Nik and the Nice Guys. Additional live performances include a song-and-dance medley featuring Oscar®-winning songs. Food selections and décor by Gatherings Catering will reflect themes from the nominated films, including barbeque and fixins' in honor of True Grit; hamburger and chicken sliders for The Fighter; crudités (aka assorted vegetables) and fruit in honor of The Black Swan; "college food" such as mac-n-cheese, pizza, and wings for The Social Network; and English tea and pastries for The King's Speech. Doors open at 7 p.m. and the celebration continues through the Best Picture award. Dress is "dress to impress." Advance tickets are $55 per person ($65 day of event) and include valet parking and a complimentary drink of beer or wine. Tickets are on sale now at www.eastmanhouse.org, (585) 271-3361 ext. 444, or in person at the Eastman House. Organized by the Eastman Young Professionals, this party is a benefit for the Eastman House and its preservation efforts. The party's star sponsors are Frontier and COMIDA. For more information please visit www.eastmanhouse.org or call (585) 271-3361.
Silent auction online starting Monday, Feb. 14
Before bidding begins at the silent auction during the party, several of the hottest items will be available via an online auction. These include a Dale Chihuly-signed and crafted woodcut; goalie stick signed by celebrated Olympian and Buffalo Sabres player Ryan Miller; a private flight package; spa packages; a diamond and ruby ring from Richards & West Jewelers; two platinum seat tickets to a rivalry game between Toronto Maple Leafs and Buffalo Sabres; and a Dennis Hopper-signed Easy Rider poster. Visit http://auctions.readysetauction.com/georgeeastmanhouse Bidding concludes at 5 p.m. Sunday, Feb. 27.
###
Attn. media
: High-res images from past Oscar® parties can be found online at
https://secure.eastmanhouse.org/pressroom
(folders are titled with the word Oscar)
Media Contact
: Dresden Engle
dengle@geh.org
(585) 271.3361 ext. 213