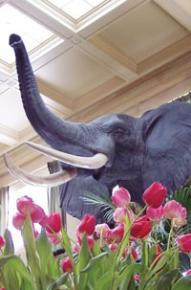 The Dutch Connection is a mid-winter treat for eyes and nose; also on view will be Eastman and Kodak artifacts from 1910
Rochester, N.Y.
- George Eastman House presents a virtual springtime, with the 15th annual exhibition
The Dutch Connection: George Eastman's Conservatory in Winter Bloom
, on view Friday, Feb. 12 through Sunday, Feb. 28. This colorful, interpretive exhibition will feature thousands of flowering bulbs, re-creating Eastman's 1910 display of flowers from Holland - ordered from the same Dutch company Eastman used. The two-week display is a welcome treat for the eyes and nose in the midst of winter. The Conservatory display each week will feature more than 2,000 tulips, hyacinths, daffodils, amaryllis, and freesias, in vibrant shades of white, yellow, rosy pink, soft orange, salmon copper, scarlet, plum, lavender, and deep blue - the same colors Eastman featured 100 years ago. In addition, tropical orchids will be displayed throughout the restored rooms of Eastman's house, courtesy of the Genesee Region Orchid Society and Sonnenberg Gardens. Also on view will be artifacts from 1910, related to Eastman and Kodak
(details at end of release)
. During Eastman's residency at the house between 1905 and 1932, he ordered tens of thousands of bulbs from Holland every year (except 1918, when a wartime coal shortage forced him to close his greenhouses) to decorate his Conservatory. The orders were mostly for tulips, narcissus, and hyacinths for indoor forcing, plus tulips for the outside beds. These bulbs were forced in his on-site greenhouses. A 1909 catalogue, from which Eastman placed his 1910 orders, will be on display during the exhibition, along with Eastman's actual order forms. Eastman's nostalgic annual bulb orders stemmed from a trip he made to Holland in 1890, when he was lured by the tulip fields while bicycling through the countryside. The present-day display is based on Eastman's original orders placed with Dutch bulb-importing company Baartman and Konin in Sassenheim, Holland. The same company, now known as B & K Flowerbulbs, supplies the flowers to Eastman House today. The cultivation process began last July with 6,000 bulbs, growing since October at the Monroe County root cellar and greenhouses.
Dutch Connection Lecture
1:15 p.m. Sunday, Feb. 14 and 6:30 p.m. Thursday, Feb. 18
Join Landscape Curator Amy Kinsey at this illustrated lecture where the audience will learn about the months of effort that go into coaxing 6,000 bulbs to life for the two-week exhibition and hear about the history of the show. The lecture will be held in the Curtis Theatre followed by a guided tour of
The Dutch Connection
exhibition. Included with museum admission.
Bulb Sale
Potted tulips, hyacinths, and daffodils will be sold during The Dutch Connection, with all proceeds benefiting the exhibition.
Group Tours
George Eastman House is offering private group tours of The Dutch Connection during regular museum hours. Please call our Visitor Services Department at (585) 271-3361 ext. 238.
George Eastman in 1910
Artifacts related to Eastman and Kodak, from 1910, will be on view in conjunction with
The Dutch Connection
, on the second floor of the house.
Kodak cameras produced in 1910: No. 2A Folding Pocket Brownie and No. 3A Special Kodak, alongside related advertisements. These cameras offered both quality and simplicity to consumers, reinvigorating their interest in photography and Kodak.
Kodak advertisements geared toward motorists, as the automobile became more popular. One 1910 ad campaign was titled "Motoring with a Kodak."
Photographs from Eastman's sailing trip to Nova Scotia in July and August. In 1910, Eastman traveled extensively, spending 12 weeks in Europe primarily on business, with four weeks touring the Mediterranean Sea and coastal countries.
A letter written by Eastman to the president of Rochester General Hospital, accompanying a donation of $500,000 to pay for an expansion of the building. In 1910, he also gave money to the Homeopathic Hospital (later named Genesee Hospital), establishing the Maria Kilbourn Eastman Nurse of the Year Scholarship, in honor of his mother who had died three years earlier.
The Dutch Connection
will be on display 10 a.m. to 5 p.m. Tuesday through Saturday; until 8 p.m. Thursday; and 1 to 5 p.m. Sunday. Museum admission is $10 for adults; $8 for seniors (60+); $6 for students; $4 for children 5-12; and free for museum members and children 4 and under. For information visit www.eastmanhouse.org or call (585) 271-3361.
The Dutch Connection
is made possible with support provided by Gerald P. Kral and Karen S. Kral.
Attention media:
For high-res color photographs from past displays of
The Dutch Connection
please log on to
https://secure.eastmanhouse.org/pressroom
###
Contact:
Dresden Engle
dengle@geh.org
  (585) 271.3361 ext. 213