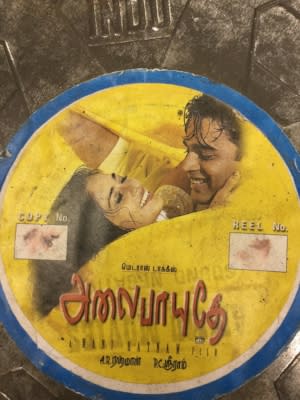 New gifts from the British Film Institute and a film professor in Houston add more than 500 titles to the museum's collection, the largest in the world
Rochester, N.Y., February 22, 2018—The George Eastman Museum, home to the world's largest collection of South Asian films held by a museum or archive, has just announced the addition of more than 500 titles to its collection. Two major donations—419 film titles from the British Film Institute (BFI) National Archive and 68 titles from Dr. Tish Stringer of Houston—brings the total number of South Asian titles in the museum's collection to 1,084.
"These rare and endangered film prints from South Asia are a wonderful complement to the Eastman Museum's acquisition of 597 contemporary Indian films in 2014," said Paolo Cherchi Usai, senior curator, Moving Image Department. "We are grateful to the British Film Institute and to Dr. Tish Stringer for their donations to our collection, where they will be an invaluable resource for exhibition and scholarly research. The Louis B. Mayer Foundation has again generously supported costs associated with building our collection."
The donation from the BFI National Archive to the Eastman Museum includes the Sheikh Taimoor Collection, a large body of works of South Asian cinema, consisting of 441 Urdu-, Punjabi-, and Hindi-language 35mm prints from Pakistan and India, from around 1950 to 1975. This unique collection of 2,380 reels of vintage prints weighed nearly 40,000 pounds upon its arrival at the museum. Funding support for the crating and overseas transportation of materials from the UK was provided by the Louis B. Mayer Foundation.
"The Sheikh Taimoor Collection expands the eras of the museum's current holdings in the area of international filmmaking," added Cherchi Usai. "The Eastman Museum is the only collecting institution worldwide with a collection of this caliber of Urdu-language films."
The 68 titles that were donated to the museum by anthropologist and multimedia artist Dr. Tish Stringer of Houston, Texas, arrived before Hurricane Harvey made landfall in Texas. They would have been destroyed in the storm had they not been sent to Rochester just weeks prior. The films are in several different languages, including Hindi, Tamil, and Malayalam. Dr. Stringer is a lecturer and the Film Program Manager in the Department of Visual and Dramatic Arts at Rice University, where she teaches film production and manages the technical needs of Rice Cinema and a filmmaking program.
In 2014, the Eastman Museum announced its rescue and acquisition of 774 prints representing 597 film titles—all in 35mm format, made between 1999 and 2013—as well as about 6,000 film posters. The languages represented in those films include Assamese, Bengali, Gujarati, Hindi, Kannada, Malayalam, Marathi, Punjabi, Tamil, Telugu, and Urdu. Many titles are from acclaimed masters of Indian cinema, such as Mani Ratnam, Ashutosh Gowariker, Anurag Kashyap, Nagesh Kukunoor, and Sanjay Leela Bhansali.
"There is a grave risk that many important South Asian titles may be lost, just as a vast number of early American and European films are no longer extant," said Bruce Barnes, Ron and Donna Fielding Director, George Eastman Museum. "The George Eastman Museum is committed to preserving, exhibiting, and studying these films, as well as making them available for scholarly research and for exhibition by other film archives around the world."
About the George Eastman Museum
Founded in 1947, the George Eastman Museum is the world's oldest photography museum and one of the largest film archives in the United States, located on the historic Rochester estate of entrepreneur and philanthropist George Eastman, the pioneer of popular photography. Its holdings comprise more than 400,000 photographs, 28,000 motion picture films, the world's preeminent collection of photographic and cinematographic technology, one of the leading libraries of books related to photography and cinema, and extensive holdings of documents and other objects related to George Eastman. As a research and teaching institution, the Eastman Museum has an active publishing program and, through its two joint master's degree programs with the University of Rochester, makes critical contributions to the fields of film preservation and of photographic preservation and collection management. For more information, visit eastman.org.
# # #
PRESS IMAGES: https://eastmanmuseum.box.com/v/2018indiancinema.
Media Contact: Kellie Fraver, PR Manager
(585) 327-4813