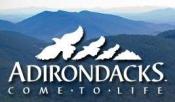 "My Summer Place" Features a Series of Events Celebrating O'Keeffe and Lake George
Adirondack Region, N.Y.
- On June 15,
My Summer Place: Georgia O'Keeffe and Lake George
kicks off with The Hyde Collection in Glens Falls' debut of a groundbreaking exhibition:  
Modern Nature: Georgia O'Keeffe and Lake George
. From 1918 until 1934, O'Keeffe lived with photographer Alfred Stieglitz and his family for part of each year in Lake George, earning her first critical success as an artist and eventually marrying Stieglitz.
Modern Nature
is the first exhibition of its kind, featuring 58 of O'Keeffe's paintings made while she lived in Lake George, including some of her most iconic canvases.     As a companion exhibition to
Modern Nature
, The Hyde will present a collection of Steigltiz's photographs taken during the same timeframe. The exhibition, titled:
A Family Album: Alfred Stieglitz and Lake George,
features 30 photographs taken by the influential photographer of his family and friends.
My Summer Place
continues with guest lectures, an original play inspired by O'Keeffe and Stieglitz's loving but often tumultuous relationship, and a variety of children's programs. Events include: 
On July 11 the Adirondack Theatre Festival will debut "Filming O'Keeffe," an original play by award-winning playwright Eric Lane, at the Charles R. Wood Theater in Glens Falls. The play is slated to run seven nights. Tickets start at $25.
On July 21, curator, critic and author Gwendolyn Owens will present a guest lecture titled: "The Spirit Loosed from its Shackles: Georgia O'Keeffe and Women's Art," at The Hyde. The event is free with museum admission and starts at 2 pm.
My Summer Place also includes a variety of children's arts programs and events, including the Lake George Association-sponsored Floating Classroom. On select Thursdays starting June 27, an art educator and a teaching artist will offer drawing lessons on scenic lakeshore cruises around Lake George.
On August 9 and 20, the Adirondack Theatre Festival will present "Faraway Nearest One: Stieglitz to O'Keeffe, O'Keeffe to Stieglitz, A Reading of Letters" edited by Sarah Greenough. Listen to the poignant, combative and deeply moving words of these two artists spanning more than 30 years and 5,000 letters.
On September 15,  the exhibition will travel to the Georgia O'Keeffe Museum in Santa Fe from October 4, 2013 - January 26, 2014, and then on to the Fine Arts Museums of San Francisco, de Young Museum from February 15 - May 11, 2014.
Modern Nature
was organized by The Hyde Collection in association with the Georgia O'Keeffe Museum in Sante Fe. It is curated by Erin B. Coe, The Hyde Collection's Chief Curator, and Barbara Buhler Lynes, the former curator of the Georgia O'Keeffe Museum. The paintings are on loan from private and public collections. For more information about visiting the Adirondacks or to start planning your trip, log onto
visitadirondacks.com
.
###
About the Adirondacks:
The Adirondack Region is a six-million-acre park offering limitless recreation amid 2,000 miles of hiking trails and 3,000 lakes and ponds. Part of the largest temperate forest in the world, the Adirondacks are also home to 103 towns and villages. Connect with the Adirondacks on Facebook.com/visitadirondacks or Twitter.com/visitadks. Search Adirondack events, attractions and Adirondack vacation packages at VisitAdirondacks.com. 
Contact
: Rebecca Steffan (518) 523-9258
Rebecca@inphorminc.com