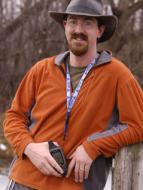 Learn how to use GPS to discover treasures on Great Lakes Seaway Trail
Sackets Harbor, N.Y.
- The 2011 Great Lakes Seaway Trail Discovery Center Program Series kicks off Friday, May 14 at 6:30 pm with a hands-on presentation by geotrail developer Jim "Boots" Hooper at the Great Lakes Seaway Trail Discovery Center in Sackets Harbor, NY. Hooper will present "An Introduction to Geocaching," the high-tech treasure hunting travel sport that uses a handheld Global Positioning System (GPS) unit to locate hidden boxes. Hooper is a member of the National 4-H Geospatial Science Taskforce, the New York State 4-H Geospatial Leadership Team, and a member of the Rochester-based GeoRoc online community. He is also the developer of the new 75-cache Great Lakes Seaway Trail GeoTrail adventure that takes GPS-guided explorers along the 518-mile route that parallels the St. Lawrence River and Great Lakes shoreline of New York and Pennsylvania.   "Those who enjoy exploring with their GPS (Global Positioning System) unit in hand will discover the lovely landscapes, historic sites and natural wonders that are found only along the Great Lakes Seaway Trail," Hooper says.   "We are pleased to develop the Great Lakes Seaway Trail Geotrail with Jim as a new recreational, historic, cultural and outdoor experience for travelers on the byway," says Seaway Trail, Inc. President and CEO Teresa Mitchell.   The Great Lakes Seaway Trail is federally-designated as one of America's Byways. Destination points, and possible geocache sites, on the byway include Niagara Falls, the 1000 Islands, 29 historic lighthouses, 18th and 19th century forts, the "film and flower city" of Rochester, Buffalo, the National Toy Hall of Fame, parks, the Eastern Lake Ontario dunes, Lucille Ball's Playhouse and much more.   There is a $5 fee for the May 14 program at the Great Lakes Seaway Trail Discovery Center located at the corner of Ray and West Main Streets in Sackets Harbor, NY.   The 2010 Great Lakes Seaway Trail Travel Guide includes GPS coordinates for 100 of its Great Lakes Seaway Trail "outdoor storyteller" signage units that share fascinating facts, legends, lore and illustrations at lighthouses and significant points of historic, natural/birdwatching, cultural, maritime, agricultural and architectural note along the byway.   Seaway Trail, Inc. is an official Groundspeak Distributor and Geocaching.com merchandise distributor. For more information, call 315-646-1000 or check the website at
http://www.seawaytrail.com/
. Program revenue will benefit the Seaway Trail Foundation educational programming and exhibit development.
###
Contact:  Teresa Mitchell, 315-646-1000, Jim "Boots" Hooper, 585-732-6057
Photo
: high res available from
/wp-admin/karalynn@gisco.net
: National 4-H Geospatial Science Taskforce member James "Boots" Hooper is the developer of the new Great Lakes Seaway Trail Geotrail high-tech treasure hunting travel adventure. Photo courtesy of
http://www.seawaytrail.com/