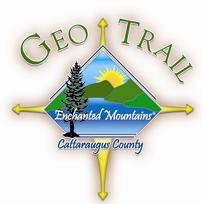 Cattaraugus County, N.Y.
- "Cattaraugus County has been involved in the worldwide phenomenon of geocaching since its launch of the two pronged Enchanted Mountains GeoTrail initiative on May 12, 2009.  The first launch coincided with the Allegany State Park GeoBash May 15-17, 2009, the largest geocaching event on the East Coast," announced Deb Opferbeck, Tourism Specialist with the Cattaraugus County Department of Economic Development Planning & Tourism.  The second portion of the Enchanted Mountains GeoTrail was launched at the Allegany State Park GeoBash, May 21-23, 2010.  Geocaching (pronounced "geo-cashing") is a high-tech treasure hunting game played throughout the world by adventure seekers equipped with GPS devices.  The basic idea is to locate hidden containers, called geocaches, outdoors and then share your experiences online.  The Enchanted Mountains GeoTrail geocaches are officially registered with geocaching.com.  There are a total of 32 towns to visit, with half of the caches placed in 2009 and the other half placed in 2010.  Geocachers will need to be registered, which is free, on www.geocaching.com to retrieve the coordinates and other location information.  Before setting out to find caches, a cacher will want to obtain an official leaflet.  Leaflets are free and can be acquired at the starter cache during the Allegany State Park GeoBash, the County Building in Little Valley, or at the Ellicottville Chamber of Commerce, the Greater Olean Area Chamber of Commerce, the Randolph Area Community Development Corporation and the Salamanca Area Chamber of Commerce.  Each cache will have a unique keyword written on the inside of the cache container's lid.  The cacher will write this keyword down next to the town name in this leaflet; then either mail the list of town and keywords to the address listed in the leaflet OR simply fill out the on-line form with their latest cache(s) at
www.EnchantedMountains.com/geotrail
and the appropriate wooden nickel will be sent to them.  You may also stop in to the Tourism office at the County Building during business hours to obtain their nickels.  Leaflets are the property of the cacher to retain as a keepsake, so any leaflet's mailed in, will be returned with their wooden nickel(s).  Successful collection of all 32 wooden nickels will entitle the cacher to a special commemorative Cattaraugus County GeoCoin. 
And remember, to keep it fun for all geocachers, please don't share the keywords! 
Geocaching is enjoyed by people from all age groups, with a strong sense of community and support for the environment.  All participants must understand that geocaching, as well as hiking, backpacking and other outdoor activities involve risk to both persons and property.  Be prepared for your journey and be sure to check the current weather and conditions before heading outdoors. Always exercise common sense and caution.
See you on the Trail!!!
###