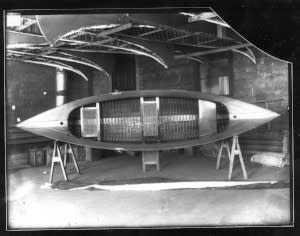 Canton, N.Y. – Are you planning to attend the Canton Canoe Weekend and Rushton Memorial Races? On May 5th, the first day of the races, the St. Lawrence County Historical Association will be hosting its first-ever "white glove" event, featuring items from the Rushton collection! Participants will be able to don white cotton gloves and carefully handle Rushton-related objects and archival items under the watchful eyes of the SLCHA curator and archives manager. If you have ever wanted to peruse the pages of a Rushton catalogue or look through scrapbooks of photographs of the factory floor, now is your chance!
Admission to the event is priced at $5. Entry may require waiting for a short period of time, as the number of people allowed into the viewing area at any time will be limited. While waiting, participants may be interested in looking around the museum. The SLCHA's North Country Annex also houses an exhibition, J. Henry Rushton: the Stradivarius of the Canoe, which features several antique Rushton boats, oars, models, and historic photographs of the Rushton workshop, canoeing camps, and boats. In the main stairwell, visitors can find reproductions of photographs of American Canoe Association meets in the Thousand Islands, from the past exhibition, Paddling to Perfection.
The St. Lawrence County Historical Association at the Silas Wright House is normally open Tuesday through Thursday noon to 4pm, Friday noon to 6pm, and Saturday 10am to 4pm. Admission to the museum is free; admission to the archives is free for members and children, $2.50 for college students, and $5 for the general public.  The St. Lawrence County Historical Association is located at 3 E. Main St., Canton. Parking is available behind the SLCHA, next to the museum's main entrance.
The St. Lawrence County Historical Association is a membership organization open to anyone interested in St. Lawrence County history. For more information, or to become a member, call the SLCHA at 315-386-8133 or e-mail info@slcha.org. Visit the SLCHA's website, www.slcha.org, for more information on St. Lawrence County history.
###
Contact:  Sue Longshore, SLCHA (315) 386-8133, SueL@slcha.org
Image Caption: A boat in the Rushton factory, courtesy of the SLCHA.