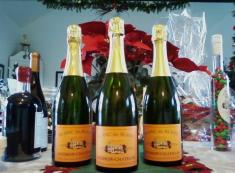 The Hudson Valley celebrates its local wines and liquors
Hudson Valley, N.Y.
- Catch some holiday cheer at the many Hudson Valley wineries, distiller
ies, and breweries tucked into the hills up and down the river. Gift giving this season is not only easy, it's fun when you visit the beautifully decorated facilities producing some of the best spirits in the country. Tastings are available of the wine, little nips of the distilled spirits and brews so you can choose your favorite.                                                                                                         The Hudson Valley may be the oldest wine producing region in the United States, but the ever expanding spirits industry has brought new distilleries to the area. Tuthilltown Spirits in Gardiner is New York's first whiskey distillery since Prohibition. Host a Mad Men party with their Hudson Baby Bourbon distilled from 100% New York State corn, or gift a favorite uncle with their vodka from apples grown at the local orchard. Palates preferring a sweeter libation will want to try the fruit brandies and liqueurs at Warwick Valley Winery. Savor the Sour Cherry Cordial and pear brandy. The steam fired German copper still produces exceptional dessert quaffs that make great hostess gifts. Equally tasty, local brews can be found throughout the region. The Captain Lawrence Brewing Company in Pleasantville crafts award-winning beers produced on the premises including seasonal brews such as Pumpkin Ale, Golden Delicious, Nor'easter Winter Warmer and Smoke. Tour the brewery and sample these golden elixirs for yourself in the tasting room. There's nothing like a good beer paired with wonderful food, and the Taproom at Brown's Brewing Company in Troy features over a dozen ales and lagers on draught. The hand-crafted standards are renowned for their freshness, character and taste. Right now, Oktoberfest and Pumpkin Ales are on draught, and November and December feature monthly Beer Suppers with a delightful holiday menu. Beers at both breweries are available for sale and make a wonderful accompaniment to Thanksgiving dinner. Speaking of the grand turkey day, the Bavarian Manor Country Inn in Purling will do all the work for you with a traditional dinner featuring freshly roasted turkey and slow baked smoked country ham with autumn vegetables and side dishes that go with an American Thanksgiving. Sip a glass of wine or beer while your table is served family-style with leftovers wrapped for you to take home! Wineries are known for their charm and ambiance; two in the Hudson Valley come to mind. The Winery at St. George is located in an historic church in Mohegan Lake. Limited edition wines are produced from three grape varietals grown locally: Cabernet Franc, Seyval Blanc, and Noiret (a Pinot Noir hybrid). Taste it in the sanctuary, but recognize that this goes far beyond communion wine! Brotherhood Winery in Washingtonville actually stayed open during Prohibition because it produced communion wines. As the oldest winery in the United States, the renovated facility housed in hundred year old buildings boasts a beautiful new tasting room with stations for different varietals. Don't miss the chance to sip some super vintages on November 19th at Millbrook Winery's Grand Portfolio Tasting. It's a good chance to explore everything their winemaker has to offer, including limited editions of previous vintages. Tastings are accompanied by light hors d'oeuvres and special wine discounts. That same day, Hudson-Chatham Winery in Ghent is hosting their Bread, Wine & Cheese Celebration from 12-5PM. Local creameries and bakers bring savory cheeses and breads to pair with the dry reds the winery is known for as well as their usual selections from dry to sweet to sparkling. For something a little different, check out "Hudson Valley Art & Wine - A Grand Celebration," the exhibit at Albany Heritage Area Visitors Center. Hudson Valley artists display works inspired by the region's wineries to create awareness of the art, wine and cultural experiences that have a deep-rooted history in the Hudson Valley region. The exhibit remains on view until January. Come experience our Hudson Valley holidays with the unique combination of wine, liquor, beer, art, and farm fresh food at dozens of wineries and breweries throughout the region. Their gift shops are filled with interesting items for giving, and the tasting rooms are poised to pour you their best.
###
Hudson Valley Tourism, Inc. is the 10-county region designated by I LOVE NEW YORK to promote tourism for the area. Counties include Albany, Columbia, Dutchess, Greene, Orange, Putnam, Rensselaer, Rockland, Ulster and Westchester.  The Valley welcomes over 20 million visitors a year who spend $3 billion annually. Regional information can be obtained from any of the county tourism offices, the Hudson Valley Tourism website, www.travelhudsonvalley.com, or by calling 845-615-3860.   
RESOURCES
Tuthilltown Spirits, Gardiner. 845.633.8734,
http://www.tuthilltown.com/
Warwick Valley Winery, Warwick. 845-258-4858,
http://www.wvwinery.com/
         Captain Lawrence Brewing Company, Pleasantville. 914-741-2337,  
http://www.captainlawrencebrewing.com/
  Brown's Brewing Company, Troy. 518-273-2337,
http://www.brownsbrewing.com/
          Bavarian Manor Country Inn, Purling. 518-622-3261,
http://www.bavarianmanor.com/
The Winery at St. George, Mohegan Lake. 914-455-4272,
http://www.thewineryatstgeorge.com/
  Brotherhood Winery, Washingtonville. 845-496-3661,
http://www.brotherhood-winery.com/
      Millbrook Winery, Millbrook. 800-662-9463,
http://www.millwine.com/
  Hudson-Chatham Winery, Ghent. 518-392-WINE,
http://www.hudson-chathamwinery.com/
  Albany Heritage Area Visitors Center, Albany. 518-434-1217,
http://albany.org/VisitorCenter.aspx
# # #
Contact: Susan Hawvermale
shawvermale@orangecountygov.com
  845-615-3863 Hudson Valley Tourism