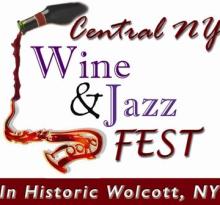 Wolcott, N.Y.
- The second annual Central New York Wine & Jazz Fest will be held Saturday, August 7th, 2010 from 11a.m. - 8p.m. in historic downtown Wolcott, NY.  "We're excited to follow up on the huge success of our 2009 premier event which brought over 3,000 people from all over NY State and as far as Canada" said event chair Mike Bettis.  Once again, this Agri-tourism event is proud to join the ranks of other similar NY State festivals in promoting and showcasing Central New York's increasing popularity in the production of fine wines. Over twenty Upstate NY wineries are scheduled to offer tasting and sales amidst a backdrop of free live jazz entertainment from international jazz vocalist Nancy Kelly 5pm-8pm; national jazz ensemble the Rick Holland Little Big Band 2:30-5pm, regional jazz favorites the E.S.P band of Syracuse 12pm-2:30pm, as well as local duo the Domicolo-Barlow Band. In addition to great wine & music there will also be over fourty high-end vendors offering superior cheeses, jewelry and other artisan creations. The entertainment and access to non-wine vendors is free to the public as well as free parking.  For access to wine tasting on Main Street all 21 year olds with proper I.D. can purchase tickets at the gate for $20 or buy $15 Advance sale tickets either online at
http://www.wolcottlionsclub.org/
or by calling (315) 530-7171.  Designated drivers and non-tasting tickets are also available for only $10.  In addition to receiving access to all the wineries and their products, ticket holders also receive a gift bag with valuable coupons and a limited edition wine glass.
###
About the Wolcott Chamber of Commerce
The mission of the Wolcott Chamber of Commerce is to promote, enhance & support the business, civic, cultural, educational and spiritual interests and activities of the Wolcott community.  For more information on the Chamber visit
http://www.wolcottny.org/
.  For more information on the Wolcott Lions Club visit
http://www.wolcottlionsclub.com/
.
CONTACT
: Mike Bettis, Vice President Wolcott Area Chamber of Commerce Phone (315) 594-2506 Fax (315) 594-6331
mikebettis@hotmail.com
wolcottnychamber@gmail.com
www.wolcottny.org