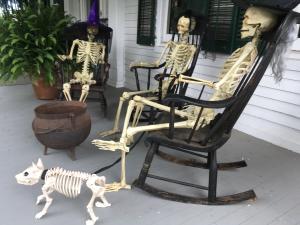 Southampton, N.Y. – Visit a haunted Southampton Village inhabited with ghosts, goblins and ghouls all on the grounds of the historic Rogers Mansion.
The museum's outbuildings will be open and occupied with the unimaginable. Explore the Creepy Carpenter's Shop, meet Debbie Downbeat in the old Hildreth's Department Store, and encounter a Bloody Blacksmith with many more shocking surprises.
Families will enjoy a safe, controlled Halloween with all NYS COVID-19 regulations enforced including no food, drink or onsite restrooms. RSVP's required with timed entrances limited to 100 people on the one-acre lot.
Tom Edmonds, director of the Southampton History Museum, says "everyone, especially adults, should dress up in their most terrible costumes and enjoy a frightening tour of our historic buildings."
PROGRAM:        Family Event
TITLE:                Haunted Village in Southampton
LOCATION:         Southampton History Museum, 17 Meeting House Lane, Southampton, NY 11968
DATES & TIME:  Saturdays, October 24 and October 31, 2:00 to 4:00 pm
FEE:                  Free for children 10 years old and under, $10 per adult
RSVP:                Reservations required with timed entrances for a 20 minute tour. Limited to 100 people at one time, only family groups of up to 6 allowed per reservation. Children must be accompanied by an adult with a reservation. Facemasks required and social distancing strictly enforced. Call with a credit card (631) 283-2494 or go to southamptonhistory.org 
PHOTO: Three Witches by Tom Edmonds, 2019
Southampton History Museum
17 Meeting House Lane, Southampton, NY 11968
(631) 283-2494
Website / Facebook / Instagram
CONTACT: Tom Edmonds tedmonds@southamptonhistory.org